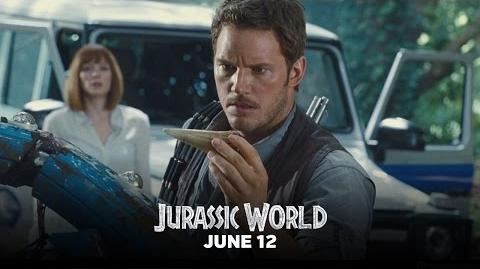 Happy scary Halloween
Date: 2016-10-31
Author: BastionMonk
I hope you all had or going to have a nice and scary Halloween/Samhain/Bonfire Night!
We have tried to dress-up this wiki for the occasion. The Jurassic franchise has all the elements for a scary Halloween story. Abandoned spooky buildings in the forest, bloodthirsty monsters lurking in the night, mad scientists, unnatural hybrids etc. I hope Universal will one day produce a booklet or short movie about Halloween in a Jurassic setting. A well-written fan fiction would also be nice.
Care to tell how your Halloween was? Write about it over here.
Brief PSA about the raptors in Jurassic World
Date: 2016-02-14
Author: Mjamnnella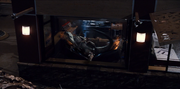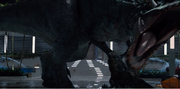 It has come to my attention that many people are having misconceptions about the ending to Jurassic World and I would like to address this. In the main street battle, one Velociraptor was burnt and the other was tossed. For a while, the burnt raptor was thought to have been Echo, and the tossed raptor was thought to be Delta.
Now that there are better photos of this scene, we can now come to the conclusion that Delta was burnt on the grill and Echo the raptor tossed.
Please don't make this mistake in the future and thank you for taking the time to read this.
Happy Holidays
Date: 2015-12-24
Author: BastionMonk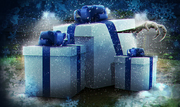 Well, the Longest Night has past us. The days are starting to get longer second by second. Even though we still have to face the coldest part of the year, we can muster hope from the knowledge that there will be another summer. That asks for a celebration :)
However, that is how I look at it. Regardless of your personal beliefs and local traditions, I wish you all a merry holiday season and a happy new year! I hope you have a good time. Please spend it offline with your loved ones. Not editing this wiki :)
2015 was probably the best year for Jurassic Park fans since 1993. We finally saw a new and fresh Jurassic film and we still enjoy the games and collectibles that were released in its wake.
I hope next year will be a good one as well. I do not know of any Jurassic activities planned by Universal for 2016. I do know of a couple of good dinosaur and caveman video games set for release in 2016. That is something.
Happy Halloween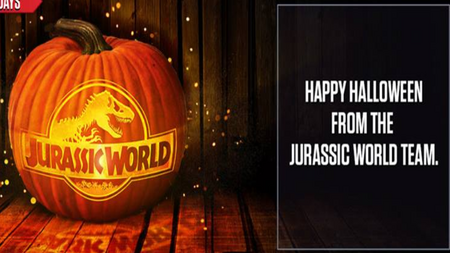 Date: 2015-10-31
Author: BastionMonk

I wish you all a very happy Halloween/Samhain/All Saints' Day/Walpurgis Night/Reformation Day this weekend!
I hope you have fun with your friends and family. If you created some nice Jurassic Park themed costumes of Jack-O-Lanterns, please show it on the forum.
I hope that one day we will have the skills to give this wiki a nice Halloween makeover for the occasion.

Mesozoica: Our only chance for a new Operation Genesis game

Date: 2015-09-24
Author: BastionMonk

Mesozoica is a for-profit indie game project that aims to create a "theme park simulator in the vein of Jurassic Park: Operation Genesis, a game where you take prehistoric creatures and create several scenarios in a theme park of your own design. A land of opportunity where the player has free control over what he/she puts into her park, what she charges to enter the park and how the prehistoric creatures look and create."
Mesozoica is our only chance for getting a new 2015-version of Jurassic Park: Operation Genesis. How do I know this?
Many fans really want an open world dinosaur shooter/survival game. Universal has tried that but failed and they never tried again.
Because of the high demand among dino fans, many fans have tried to provide the supply. I have seen many impressive fan projects to create a dinosaur survival/shooter game. Most of them dy out after a few years without even releasing a demo. All other are permanently under construction.
However, there ARE dinosaur survival games now. To name a few: ARK: Survival Evolved, Primal Carnage, Primal: The Hunter etc. NONE of these are created by Universal, major video game companies or fans. They are for-profit indie games.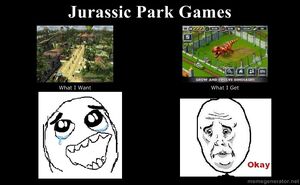 The SAME will happen with the dinosaur zoo simulation/management game that many fans want. Universal will NOT create one. They have given us two simple social media management games, and there are no plans for anything greater.
Neither will any of the major video game companies create such a game. They could not be bothered to create a dinosaur shooter, neither will they create a dinosaur zoo management game.
Fans will not create a dino zoo game, either. Of course, there are a lot of fan projects out there; but there is no sign that they will be ANY more successful as their shooter counterparts.
So, our only hope for getting a dinosaur zoo building and management game is with the indie game developers. Mesozoica is the best one I have seen so far. But it won't happen if fans do not financially support it.
The Mesozoica team can only work on the project if there is money they can life on while they are creating the game. Remember, this is not something a bunch of dino fans are working on during their spare time.
Mesozoica will not happen if they do not raise $50,000 on Kickstarter before October 6. They are only at ~35,000 and there are only 11 days left. Here are the links, you know what to do.
Share your thoughts over here

News archive: DNN Newsland




To create a new page, enter the title below.


Create blog post
Refresh
here is my list of what i want to see in Jurassic World 2.

1. D-Rex

2. Sarcosuchus

3. Argitenosaurus.

4.  unidentified species of Terror Bird.

5. Spinosaurus.

6. Baryonyx.

7. Dilophosaurus.

8. Dodo.

9.  Cartn…

Read more >

This blog is for questions and answers for various crossovers between the Jurassic Park/World series.

What do you guys think about a crossover between Jurassic Park (1 + Game, 2 & 3) Jurassic World (t…

Read more >

Many know the power of this dinosaurs bite but have trouble comphrending the force of it. The bite power would be between 10-20 tons. Now at 20,000 pounds of pressure per square inch that is almost u…

Read more >
See more >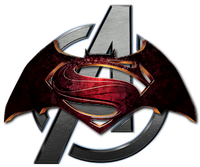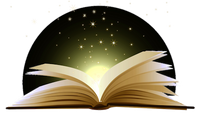 General Literature
Go to these sites for info or for help with your own wiki!
Bourne • Fifty Shades of Grey • The Giver • The Handmaid's Tale • James Bond • Jurassic Park Universe • Les Misérables • Outlander • Sherlock Holmes
Want your community included? See how!

Ad blocker interference detected!
Wikia is a free-to-use site that makes money from advertising. We have a modified experience for viewers using ad blockers

Wikia is not accessible if you've made further modifications. Remove the custom ad blocker rule(s) and the page will load as expected.