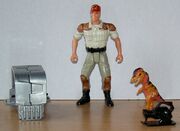 "Jaws" Jackson is the third member of the Dino Trackers from Jurassic Park Series 2 toy line.
He is half Blackfoot Indian and has a Ph.D from Colombia University. He joined the Dino Trackers because he was interested in studying the dinosaurs on Isla Nublar as well as to protect them from poachers. He is also an expert Tracker and led the most comprehensive grizzly bear study ever conducted.
Information for this Character from Collector card n°51
Ad blocker interference detected!
Wikia is a free-to-use site that makes money from advertising. We have a modified experience for viewers using ad blockers

Wikia is not accessible if you've made further modifications. Remove the custom ad blocker rule(s) and the page will load as expected.