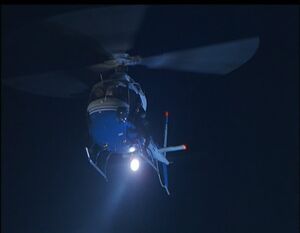 The Aérospatiale AS355 Twin Squirrel was a type of helicopter manufactured by Aérospatiale (later Eurocopter) and used by the San Diego Police Department. One of these was sent to the docks so that a police sniper could shoot and kill the Tyrannosaur Buck aboard the S.S. Venture, but Sarah Harding shot him with a tranquilizer dart before the sniper could open fire.
Appearances
Edit
Ad blocker interference detected!
Wikia is a free-to-use site that makes money from advertising. We have a modified experience for viewers using ad blockers

Wikia is not accessible if you've made further modifications. Remove the custom ad blocker rule(s) and the page will load as expected.