This page needs serious attention!
---
This article does not currently meet the standards set at
Park Pedia: The Jurassic Park Wiki. Please feel free to edit it, and pose any
questions you might have on the article's talk page.
Acrocanthosaurus
was made available in
Jurassic World: The Game
on November 3, 2017, as a legendary carnivore exclusive to VIP members.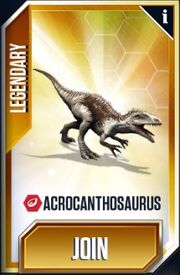 Information
Acrocanthosaurus is available only to VIP members and is found by opening Loyalty Points card packs. No hybrids are associated with this creature.
Cost and incubation time
Availability
Legendary (VIP exclusive)
Maximum earning rate
(coins per minute)
1,280
Additional information
Acrocanthosaurus
Costs and incubation times
Level
Cost
Incubation time
(D:HH:MM)
Selling cost
1
10,000
0:06:00
5,000
11
21
31
Trivia
Level
Rewards
Trivia
Bucks
Food
DNA
LP
Evo 1
—
9,000
—
—
Acrocanthosaurus means 'high spined lizard.' This apex predator looks like a Tyrannosaurus with a hunchback!
Evo 2
—
76,375
—
—
At 38 feet and over 6 tons, the Acrocanthosaurus was one of the biggest land-dwelling predators ever!
Evo 3
100
350,000
—
—
The best preserved Acrocanthosaurus skeleton ever discovered was found in Oklahoma – its name is Fran!
Evo 4
100
1,479,250
—
208
The Acrocanthosaurus has incredibly short forelimbs – so short, it can't even scratch its own neck!
Stats
Level
Health
Attack
Earning rates
(per 3 hours)
Feeding costs
1
778
297
720
9,000
2
821
314
1,440
17,750
3
864
330
2,160
26,750
4
907
347
2,880
35,500
5
950
363
3,600
44,500
6
994
380
4,320
53,250
7
1,037
396
5,040
62,250
8
1,080
413
5,760
71,000
9
1,123
429
6,480
80,000
10
1,166
446
7,200
Evolve
11
12
13
14
15
16
17
18
19
20
1,998
763
28,800
Evolve
21
22
23
24
25
26
27
28
29
30
3,046
1,163
86,400
Evolve
31
32
33
34
35
36
37
38
39
40
4,309
1,646
230,400
Max
Appearance
Gallery