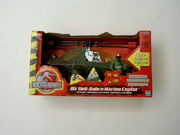 The Air-Heli Sabre Copter is a small military helicopter released with the Jurassic Park 3 (Hasbro) toy line. A pilot figure is included and features Dino-Damage panel, electronic sounds and firing missile.
The chopper appears to be referencing the military rescue from the end of Jurassic Park III.
It resembles the RAH-66 Comanche gunships, which in real life were only prototypes that were never used by the US military.