This article lists all dinosaurs, and other extinct animals, that are mentioned in Jurassic media but are never cloned.
Alamosaurus
Edit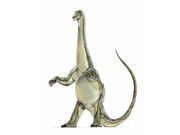 Alamosaurus was a North American sauropod from the Late Cretaceous Period. It was 15-21 meters (50-70 feet) long and weighed about 30 tons (60,000 pounds).
A skeleton of Alamosaurus can be seen in the rotunda of the Visitor Center.[1] [2]
On the Jurassic Park Institute website contained a Dinopedia section with information and artwork about Alamosaurus.
Crichtonsaurus
Edit
Crichtonsaurus was an Ankylosaur from the Late Cretaceous Period. It was discovered in China.
Scientists at the Institute of Vertebrate Paleontology and Paleoanthropology of the Chinese Academy of Sciences named the new ankylosaur species Crichtonsaurus bohlini in honor of Michael Crichton because "dinosaurs became one of the most popular scientific subjects due to (his) book."[3]
References
Edit
↑ Jurassic World Universe - Jurassic Park Alternate Ending Storyboard. Retrieved from http://www.jurassicworlduniverse.com/jurassic-park/images/storyboards/jp1storyboard05-ending-14/
↑ Jurassic Park Website - Notes. Retrieved from http://www.lost-world.com/Lost_World02/Jurassic_Park.Site/Jurassic_Park.html
↑ ZhiMIng D. (2002). A NEW ARMORED DINOSAUR(ANKYLOSAURIA) FROM BEIPIAO BASIN,LIAONING PROVINCE,NORTHEASTERN CHINA, Vertebrata Pal Asiatica, 40(4), 276-285.