Alanqa
can be created in
Jurassic World: The Game
as a common pterosaur.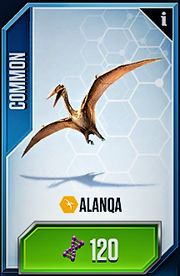 Information
Edit
Alanqa is unlocked by completing Battle Stage 2. Additional individuals can be purchased in the market for 120 DNA or found through card packs.
As of June 29, 2016, a Level 40 Alanqa can be fused with a Level 40 Majungasaurus to make the hybrid Alangasaurus.
Cost and Time to Hatch
Availability
Common
Incubation Period
00:08:00
Placement Cost
120 DNA
Selling Reward
60 DNA
Maximum Earning Rate
128 Gold/Minute
Additional Information
Alanqa
Appearance
Edit
Unlocked Trivia
Edit
Reward: 
"Did you know that the Alanqa is named after a mythological Arabian phoenix?"
Reward: 
"Discovered in Morocco in 2008, Alanqa fossils date back 65 million years to the Late Cretaceous period!"
Reward: 
"The mythological phoenix, Anqa, was not only huge, but strong enough to carry away an elephant or a whale."
Reward: 
"The Alanqa has a wingspan of 13-20 feet. The wandering albatross, by comparison, only has a wingspan of only 12 feet!"
Level-Based Stats
Edit
| Level | Unmodified Earning Rates (1 Hr) | Feeding Costs | Life | Attack |
| --- | --- | --- | --- | --- |
| 1 | 24 | 36 (5x = 180) | 39 | 15 |
| 2 | 48 | 71 (5x = 355) | 41 | 16 |
| 3 | 72 | 107 (5x = 535) | 44 | 17 |
| 4 | 96 | 142 (5x = 710) | 46 | 17 |
| 5 | 120 | 178 (5x = 890) | 48 | 18 |
| 6 | 144 | 213 (5x = 1,065) | 50 | 19 |
| 7 | 168 | 249 (5x = 1,245) | 52 | 20 |
| 8 | 192 | 284 (5x = 1,420) | 54 | 21 |
| 9 | 216 | 320 (5x = 1,600) | 57 | 22 |
| 10 | 240 | Evolve (00:05:00 @ 40 DNA) | 59 | 22 |
| 11 | 528 | 391 (5x = 2,640) | 76 | 29 |
| 12 | 576 | 426 (5x = 2,130) | 79 | 30 |
| 13 | 624 | 462 (5x = 2,310) | 79 | 30 |
| 14 | 672 | 498 (5x = 2,490) | 84 | 32 |
| 15 | 720 | 534 (5x = 2,670) | 87 | 33 |
| 16 | 768 | 569 (5x = 2,845) | 90 | 34 |
| 17 | 816 | 605 (5x = 3,025) | 93 | 35 |
| 18 | 864 | 640 (5x = 3,200) | 95 | 36 |
| 19 | 912 | 676 (5x = 3,380) | 98 | 37 |
| 20 | 960 | Evolve (00:30:00 @ 50 DNA) | 101 | 38 |
| 21 | 2,061 | 897 (5x = 4,485) | 124 | 47 |
| 22 | 2,112 | 939 (5x = 4,695) | 127 | 49 |
| 23 | 2,208 | 982 (5x = 4,910) | 131 | 50 |
| 24 | 2,304 | 1,024 (5x = 5,120) | 134 | 51 |
| 25 | 2,400 | 1,067 (5x = 5,335) | 137 | 52 |
| 26 | 2,496 | 1,109 (5x = 5,545) | 141 | 54 |
| 27 | 2,592 | 1,152 (5x = 5,760) | 144 | 55 |
| 28 | 2,668 | 1,194 (5x = 5,970) | 147 | 56 |
| 29 | 2,784 | 1,238 (5x = 6,190) | 150 | 57 |
| 30 | 2,880 | Evolve (01:00:00 @ 60 DNA) | 154 | 59 |
| 31 | 5,952 | 1,422 (5x = 7,110) | 183 | 70 |
| 32 | 6,144 | 1,469 (5x = 7,345) | 187 | 71 |
| 33 | 6,336 | 1,515 (5x = 7,575) | 191 | 73 |
| 34 | 6,528 | 1,560 (5x = 7,800) | 194 | 74 |
| 35 | 6,720 | 1,607 (5x = 8,035) | 198 | 76 |
| 36 | 6,912 | 1,652 (5x = 8,260) | 202 | 77 |
| 37 | 7,104 | 1,698 (5x = 8,490) | 206 | 79 |
| 38 | 7,296 | 1,743 (5x = 8,715) | 210 | 80 |
| 39 | 7,488 | 1,790 (5x = 8,950) | 214 | 82 |
| 40 | 7,680 | Fuse (04:00:00 @ 100 DNA) | 217 | 83 |