This page needs serious attention!
---
This article does not currently meet the standards set at
Park Pedia: The Jurassic Park Wiki. Please feel free to edit it, and pose any
questions you might have on the article's talk page.
Amargasaurus
is available in
Jurassic World: The Game
as a legendary herbivore available in specific tournaments.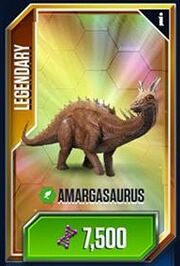 Information
Amargasaurus is unlocked by winning an Amargasaurus card pack in the Amargasaurus tournament. Once unlocked, additional individuals can be purchased in the market for 7,500 DNA. No hybrids are associated with this creature.
Cost and incubation time
Availability
Legendary (Tournament)
Maximum earning rate
(coins per minute)
768
Additional information
Amargasaurus
Costs and incubation times
Level
Cost
Incubation time
(D:HH:MM)
Selling cost
1
7,500
7:00:00
3,750
11
70
0:02:00
21
31
Trivia
Level
Rewards
Trivia
Bucks
Food
DNA
LP
Evo 1
—
5,400
—
—
This herbivore can live up to 100 years, if not eaten by a Tyrannosaurus first!
Evo 2
—
45,825
—
—
The Amargasaurus ran at speeds up to 31 mph, about as fast as a rhino!
Evo 3
100
210,000
—
—
Amargasaurus has large spines on its back that can be used for defense or show!
Evo 4
100
887,550
—
156
Like many herbivorous dinosaurs, Amargasaurus travels in herds for protection from predators.
Stats
Level
Health
Attack
Earning rates
(per 3 hours)
Feeding costs
1
544
154
432
5,400
2
575
162
864
10,650
3
605
171
1,296
16,050
4
635
180
1,728
21,300
5
665
188
2,160
26,700
6
696
197
2,592
31,950
7
726
205
3,024
37,350
8
756
214
3,456
42,600
9
786
222
3,888
48,000
10
816
231
4,320
Evolve
11
12
13
14
15
16
17
18
19
20
Evolve
21
22
23
24
25
26
27
28
29
30
Evolve
31
32
33
34
35
36
37
38
39
40
3,016
853
138,240
Max
Appearance
Gallery