Amargospinus



Name meaning

"Sail-spined carnivore"

Hybrid of:

Diet

Carnivore (fish, land-dwelling animals)

Length

60 ft.

Weight

18 tons

Toy appearances

Template Source
Amaragospinus
was a toy released in the
Chaos Effect
Line. It is a hybrid of
Amargasaurus
and
Spinosaurus
.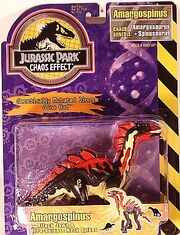 InGen's effort to create a ferocious carnivore with the size of a Brachiosaurus resulted in the massive Amargospinus. Standing over 40 feet tall, its long neck and tail provided a wide attack radius for its razor-sharp jaws, while its spiny back and slashing neck spikes offer a near-impenetrable defense. The Amargospinus is a loner by nature and second only to the Ultimasaurus for individual ferocity.
Ad blocker interference detected!
Wikia is a free-to-use site that makes money from advertising. We have a modified experience for viewers using ad blockers

Wikia is not accessible if you've made further modifications. Remove the custom ad blocker rule(s) and the page will load as expected.