This page needs serious attention!
---
This article does not currently meet the standards set at
Park Pedia: The Jurassic Park Wiki. Please feel free to edit it, and pose any
questions you might have on the article's talk page.
Amphicyon was added to the Bioshpere for Jurassic World: The Game on April 19, 2017 as a Rare cavern creature.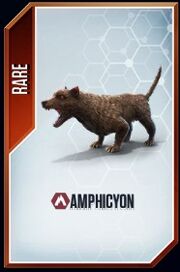 Information
Edit
Amphicyon is unlocked by completing battle stage 19 as of May 16, 2018. Additional individuals can be purchased in the market for 750 DNA or found through card packs.
Cost and Time to Hatch
Availability
Rare
Incubation Period
03:33:00
Placement Cost

750

 DNA
Selling Reward
375 DNA
Maximum Earning Rate
67.2 Gold/Minute
Additional Information
Amphicyon
Appearance
Edit
Unlocked Trivia
Edit
Reward: 810 Food
"Amphicyon is commonly called a 'bear dog' for its mix of the two mammal's body shapes. Its name means actually means 'ambiguous dog'."
Reward: 5,865 Food
"Though it has wolf-like teeth and a cannine face, this 200 pound, 8 foot omnivore would tower over any living wolf!"
Reward: 30 Dino Bucks and 13,455 Food
"There are actually several sub-species of "Amphicyon". The largest, "Amphicyon ingens", weighed over 1200 pounds!
Reward: 60 Dino Bucks, 21,330 Food and 60 DNA
"This large mammal didn't go extinct until the early Pleistocene. That's the beginning of the most recent Ice Age!
Level-Based Stats
Edit
| Level | Unmodified Earning Rates (12 Hours) | Feeding Costs | Life | Attack |
| --- | --- | --- | --- | --- |
| 1 | 152 | 810 | 67 | 44 |
| 2 | 303 | 1,605 | 71 | 46 |
| 3 | 454 | 2,415 | 75 | 49 |
| 4 | 605 | 3,195 | 79 | 51 |
| 5 | 757 | 4,005 | 82 | 53 |
| 6 | 908 | 4,800 | 86 | 56 |
| 7 | 1,059 | 5,610 | 90 | 58 |
| 8 | 1,210 | 6,390 | 94 | 61 |
| 9 | 1,361 | 7,200 | 97 | 63 |
| 10 | 1,513 | Evolve (00:00:00 @ DNA) | 101 | 66 |
| 11 | 3,327 | 5,865 | 131 | 85 |
| 12 | 3,629 | 6,390 | 136 | 88 |
| 13 | 3,932 | 6,930 | 140 | 91 |
| 14 | 4,234 | 7,470 | 145 | 94 |
| 15 | 4,537 | 8,010 | 150 | 97 |
| 16 | 4,839 | 8,535 | 154 | 100 |
| 17 | 5,141 | 9,075 | 159 | 103 |
| 18 | 5,444 | 9,600 | 164 | 106 |
| 19 | 5,746 | 10,140 | 168 | 109 |
| 20 | 6,049 | Evolve (00:00:00 @ DNA) | 173 | 112 |
| 21 | | | | |
| 22 | | | | |
| 23 | | | | |
| 24 | | | | |
| 25 | | | | |
| 26 | | | | |
| 27 | | | | |
| 28 | | | | |
| 29 | | | | |
| 30 | 18,145 | Evolve (00:00:00 @ DNA) | 264 | 171 |
| 31 | | | | |
| 32 | | | | |
| 33 | | | | |
| 34 | | | | |
| 35 | | | | |
| 36 | | | | |
| 37 | | | | |
| 38 | | | | |
| 39 | | | | |
| 40 | 48,385 | MAX | 373 | 242 |