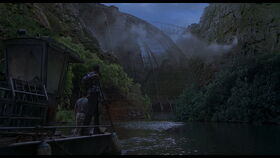 "It's a birdcage."
The following article contains spoilers for an upcoming or recent installment in the Jurassic Park Franchise. Please be careful viewing this article if you do not wish to be spoiled.
"You're welcome. Up close and personal with four dinosauruses!"
—Zach Mitchell to Gray Mitchell talking about the Ankylosaurus in the Gyrosphere ride.(src)
Ankylosaurus was built like a living tank, with extremely thick, bony plates of armor on its body, even including armored eyelids. Its tail also had a second function; it could act as a deadly club. The club was used to swing around and smash into an attacking dinosaur. Its club was so daunting that not even a Tyrannosaurus rex, would want to mess with this alarming species.[1]
As a defensive creature, Ankylosaurus was one of nature's most perfect designs. It was almost impervious to being bitten from above and its long, strong tail muscles would have been able to swing its club with great force, however, the tail wasn't too flexible and could only swing 45 degrees in each direction.[1]
There is very little fossil material from this dinosaur - it was apparently the last and largest of this family of armored dinosaurs. It walked fairly upright on all four legs, carrying its tail off the ground and it is theorized that it would drop to the ground when attacked to use its armor as a shield to cover its legs and underbelly.[1]
| | |
| --- | --- |
| | Wikipedia has a more detailed and comprehensive article on Ankylosaurus |
Behind the scenes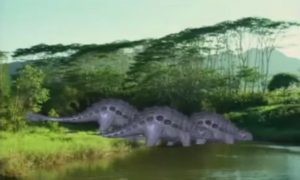 In the script for The Lost World: Jurassic Park, Robert Burke claims to have seen the remains of an ankylosaur herd while he was in the helicopter that transported him to Isla Sorna and Burke further claims that they have gone extinct once again.[7]
Two scenes of Ankylosaurus was removed from Jurassic Park III. This is included a battle between an individual and a pack of Velociraptor and a more peaceful scene of a herd of three crossing the river that Dr. Alan Grant and the Kirby family were on. However, the scene where an Ankylosaurus fights a Velociraptor pack was later included in the LEGO Jurassic World level "Eric Kirby".
In the storyboard for Jurassic World, the Indominus rex proceeds to eat the Ankylosaurus after she kills it, suggesting that the fight between the two was not going to be in defense nor out of the Indominus' desire to kill it for sport.[8] In Seth Engstrom's concept art of the scene, it appears that there two akylosaurs that were to fight the Indominus as instead of fleeing like in the film, there two Ankylosaurus shown in a defensive stance when seeing the I. rex approach them.[9]
Oddly enough, the silhouette representing Ankylosaurus seen on the Jurassic World website and on the Holoscape isn't based on Ankylosaurus, but on a reconstruction of the basal ankylosaurian Kunbarrasaurus ieversi (formerly referred to the genus Minmi as Minmi sp.).
References
↑ 1.0 1.1 1.2 Jurassic Park Institute, Dinopedia, Ankylosaurus.
↑ Ankylosaurus does not appear in any version of the Jurassic Park brochure, nor in the InGen Field Journal, InGen Field Guide and Tour the Island website.
↑ JPToys.com Retrieved from http://www.jptoys.com/toy-database/jurassic-park-junior/jurassic-park-junior-1/double-trouble-dinos/index.htm
↑ davelowerystoryboards - Jurassic World (July 31, 2015) Retrieved from http://dlstoryboards.blogspot.com/2015/07/jurassic-world_31.html