Ankylosaurus is one of the dinosaurs that can be created in Jurassic World: The Game.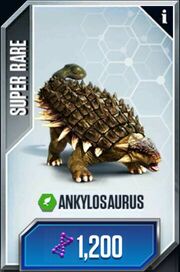 Information
Edit
It is unlocked by completing battle stage 20. More individuals can be purchased in the market or found through card packs.
As of June 10, 2015, a Level 40 Ankylosaurus can be fused with a Level 40 Diplodocus to make the hybrid Ankylodocus.
Cost and Time to Hatch
Availability
Super Rare
Incubation Period
07:09:00
Placement Cost
1,200 DNA
Additional Information
Ankylosaurus
Appearance
Edit
| | |
| --- | --- |
| Level 1-10 | |
| Level 11-20 | |
| Level 21-30 | |
| Level 31-40 | |
Level-Based Stats
Edit
| Level | Unmodified Earning Rates (2 Hours) | Feeding Costs | Life | Attack |
| --- | --- | --- | --- | --- |
| 1 | 96 | 260 (5x = 1,300) | 182 | 47 |
| 2 | 191 | 512 (5x = 2,560) | 193 | 49 |
| 3 | 286 | 771 (5x = 3,855) | 203 | 52 |
| 4 | 381 | 1,023 (5x = 5,115) | 213 | 54 |
| 5 | 476 | 1,282 (5x = 6,410) | 223 | 57 |
| 6 | 571 | 1,534 (5x = 7,670) | 233 | 60 |
| 7 | 666 | 1,793 (5x = 8,965) | 243 | 62 |
| 8 | 761 | 2,045 (5x = 10,225) | 253 | 65 |
| 9 | 856 | 2,304 (5x = 11,520) | 264 | 67 |
| 10 | 951 | Evolve (01:00:00 @ 60 DNA) | 274 | 70 |
| 11 | 2,091 | 1,692 (5x = 8,460) | 355 | 91 |
| 12 | 2,281 | 1,847 (5x = 9,235) | 367 | 94 |
| 13 | 2,472 | 2,002 (5x = 10,010) | 380 | 97 |
| 14 | 2,662 | 2,150 (5x = 10,750) | 393 | 100 |
| 15 | 2,852 | 2,304 (5x = 11,520) | 406 | 104 |
| 16 | 3,042 | 2,459 (5x = 12,295) | 418 | 107 |
| 17 | 3,232 | 2,614 (5x = 13,070) | 431 | 110 |
| 18 | 3,422 | 2,765 (5x = 13,825) | 444 | 113 |
| 19 | 3,612 | 2,920 (5x = 14,600) | 456 | 117 |
| 20 | 3,802 | Evolve (02:00:00 @ 70 DNA) | 469 | 120 |
| 21 | 7,984 | 3,874 (5x = 19,370) | 578 | 148 |
| 22 | 8,364 | 4,054 (5x = 20,270) | 593 | 152 |
| 23 | 8,744 | 4,245 (5x = 21,225) | 608 | 156 |
| 24 | 9,124 | 4,425 (5x = 22,125) | 623 | 159 |
| 25 | 9,504 | 4,612 (5x = 23,060) | 639 | 163 |
| 26 | 9,885 | 4,792 (5x = 23,960) | 654 | 167 |
| 27 | 10,265 | 4,979 (5x = 24,895) | 669 | 171 |
| 28 | 10,645 | 5,163 (5x = 25,815) | 684 | 175 |
| 29 | 11,025 | 5,346 (5x = 26,730) | 699 | 179 |
| 30 | 11,405 | Evolve (04:00:00 @ 80 DNA) | 715 | 183 |
| 31 | 23,570 | 8,165 (5x = 40,825) | 852 | 218 |
| 32 | 24,331 | 8,424 (5x = 42,120) | 869 | 222 |
| 33 | 25,091 | 8,694 (5x = 43,470) | 887 | 227 |
| 34 | 25,851 | 8,954 (5x = 44,770) | 905 | 231 |
| 35 | 26,612 | 9,220 (5x = 46,100) | 923 | 236 |
| 36 | 27,372 | 9,479 (5x = 47,395) | 940 | 240 |
| 37 | 28,132 | 9,746 (5x = 48,730) | 958 | 245 |
| 38 | 28,893 | 10,005 (5x = 50,025) | 976 | 249 |
| 39 | 29,653 | 10,271 (5x = 51,355) | 993 | 254 |
| 40 | 30,413 | Fuse () | 1,011 | 259 |