Ankylosaurus is one of the dinosaurs that can be created in Jurassic World: The Game.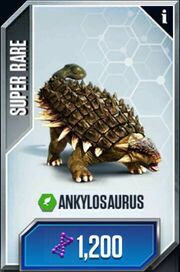 Information
Edit
It is unlocked by completing battle stage 20. More individuals can be purchased in the market for 1,200 DNA or found through card packs.
As of June 10, 2015, a Level 40 Ankylosaurus can be fused with a Level 40 Diplodocus to make the hybrid Ankylodocus.
Cost and Time to Hatch
Availability
Super Rare
Incubation Period
07:09:00
Placement Cost
1,200 DNA
Selling Reward
600 DNA
Maximum Earning Rate
253.442 Gold/Minute
Additional Information
Ankylosaurus
Appearance
Edit
Unlocked Trivia
Edit
Reward: 1,300 Food
"Did you know that Ankylosaurus means 'fused' or 'stiffened lizard'? It was one of the last dinosaurs to go extinct."
Reward: 8,460 Food
"Known for its armor, the Ankylosaurus has large bone plates embedded into its skin like an armadillo or modern crocodile."
Reward: 48 Dino Bucks and 38,775 Food
"The club-like tail of the Ankylosaurus can land a devastating blow, breaking bone on impact!"
Reward: 96 Dino Bucks, 163,820 Food and 96 DNA
"The Ankylosaurus has one of the smallest brains to body ratios. Its intelligence is similar to its close cousin, the Stegosaurus!"
Level-Based Stats
Edit
| Level | Unmodified Earning Rates (2 Hours) | Feeding Costs | Life | Attack |
| --- | --- | --- | --- | --- |
| 1 | 96 | 260 (5x = 1,300) | 182 | 47 |
| 2 | 191 | 512 (5x = 2,560) | 193 | 49 |
| 3 | 286 | 771 (5x = 3,855) | 203 | 52 |
| 4 | 381 | 1,023 (5x = 5,115) | 213 | 54 |
| 5 | 476 | 1,282 (5x = 6,410) | 223 | 57 |
| 6 | 571 | 1,534 (5x = 7,670) | 233 | 60 |
| 7 | 666 | 1,793 (5x = 8,965) | 243 | 62 |
| 8 | 761 | 2,045 (5x = 10,225) | 253 | 65 |
| 9 | 856 | 2,304 (5x = 11,520) | 264 | 67 |
| 10 | 951 | Evolve (01:00:00 @ 60 DNA) | 274 | 70 |
| 11 | 2,091 | 1,692 (5x = 8,460) | 355 | 91 |
| 12 | 2,281 | 1,847 (5x = 9,235) | 367 | 94 |
| 13 | 2,472 | 2,002 (5x = 10,010) | 380 | 97 |
| 14 | 2,662 | 2,150 (5x = 10,750) | 393 | 100 |
| 15 | 2,852 | 2,304 (5x = 11,520) | 406 | 104 |
| 16 | 3,042 | 2,459 (5x = 12,295) | 418 | 107 |
| 17 | 3,232 | 2,614 (5x = 13,070) | 431 | 110 |
| 18 | 3,422 | 2,765 (5x = 13,825) | 444 | 113 |
| 19 | 3,612 | 2,920 (5x = 14,600) | 456 | 117 |
| 20 | 3,802 | Evolve (02:00:00 @ 70 DNA) | 469 | 120 |
| 21 | 7,984 | 3,874 (5x = 19,370) | 578 | 148 |
| 22 | 8,364 | 4,054 (5x = 20,270) | 593 | 152 |
| 23 | 8,744 | 4,245 (5x = 21,225) | 608 | 156 |
| 24 | 9,124 | 4,425 (5x = 22,125) | 623 | 159 |
| 25 | 9,504 | 4,612 (5x = 23,060) | 639 | 163 |
| 26 | 9,885 | 4,792 (5x = 23,960) | 654 | 167 |
| 27 | 10,265 | 4,979 (5x = 24,895) | 669 | 171 |
| 28 | 10,645 | 5,163 (5x = 25,815) | 684 | 175 |
| 29 | 11,025 | 5,346 (5x = 26,730) | 699 | 179 |
| 30 | 11,405 | Evolve (04:00:00 @ 80 DNA) | 715 | 183 |
| 31 | 23,570 | 8,165 (5x = 40,825) | 852 | 218 |
| 32 | 24,331 | 8,424 (5x = 42,120) | 869 | 222 |
| 33 | 25,091 | 8,694 (5x = 43,470) | 887 | 227 |
| 34 | 25,851 | 8,954 (5x = 44,770) | 905 | 231 |
| 35 | 26,612 | 9,220 (5x = 46,100) | 923 | 236 |
| 36 | 27,372 | 9,479 (5x = 47,395) | 940 | 240 |
| 37 | 28,132 | 9,746 (5x = 48,730) | 958 | 245 |
| 38 | 28,893 | 10,005 (5x = 50,025) | 976 | 249 |
| 39 | 29,653 | 10,271 (5x = 51,355) | 993 | 254 |
| 40 | 30,413 | Fuse (04:00:00 @ 350 DNA) | 1,011 | 259 |