"Cool down and make a Mosasaurus-sized splash at our Aquatic Park. "
—Park Map(src)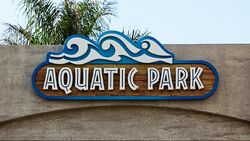 The Aquatic Park is the swimming pool of the Jurassic World park. It contains 3.5 million gallons of water and has over 21 slides.[1] It is located east of the Innovation Center and north of the Gentle Giants Petting Zoo.
Pools and slides
Edit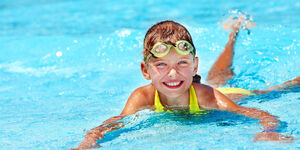 The Aquatic Park consists of:
Rules and warnings
Edit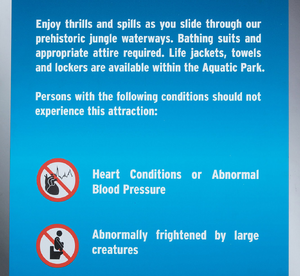 Dress code:
Bathing suits
Other appropriate attire
Available within Aquatic Park:
Life jackets
Towels
Lockers
Persons with the following conditions should not experience this attraction:
Heart Conditions
Abnormal Blood Pressure
Abnormally frightened by large creatures
"The Panthalassa Wading Pool is named for the biggest Jurassic Ocean!"[2]
"The Panthalassa Ocean - home to many aquatic dinosaurs - surrounded the continent Pangaea in Mesozoic times."[2]
"Cannonball! You'll love the Aquatic Park at Jurassic World. Dive into prehistory and splash around like a Mosasaurus, the corkscrew down our three-story Double Helix water slide. Feeling chill? Escape the Isla Nublar sun in the Belly of the Mosasaur or just relax in a Cretaceous Cabana. Sunscreen highly recommended."[2]
"Enjoy thrills and spills as you slide through our prehistoric jungle waterways. Bathing suits and appropriate attire required. Life jackets, towels and lockers are available within Aquatic Park."[3]
The website says that the Panthalassa Ocean was "home to many aquatic dinosaurs". Since Spinosaurus is the only known aquatic dinosaur, this probably refers to the famous but non-dinosaurian marine reptiles.
This should not be confused with the Aquatic Park (Jurassic Park: Builder). But it seems similar, seeing as the Belly of the Mosasaur is similar to Mosasaurus, & its relatives, like Hainosaurus, Platecarpus, and Tylosaurus.
Refrences
Edit
↑ JurassicWorld.com - Play Retrieved from http://www.jurassicworld.com/plan-your-visit/play/
↑ 2.0 2.1 2.2 2.3 2.4 2.5 2.6 2.7 2.8 JurassicWorld.com - Aquatic Park (2015, February 1) Retrieved from http://www.jurassicworld.com/park-map/aquatic-park/
↑

Warning sign text.