This page needs serious attention!
---
This article does not currently meet the standards set at
Park Pedia: The Jurassic Park Wiki. Please feel free to edit it, and pose any
questions you might have on the article's talk page.
Bananogmius was added to the Aquatic Park of Jurassic World: The Game on November 11, 2016 as a tournament cave creature.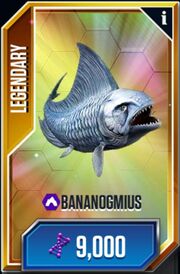 Information
Edit
Bananogmius is unlocked by winning a Bananogmius pack from either the roulette or if the player places in the top 1% of the Bananogmius tournament. Additional individuals can be purchased in the market for 9,000 DNA or found through card packs.
Cost and Time to Hatch
Availability
Tornament Legendary
Incubation Period
6 Days
Placement Cost
9,000
Additional Information
Bananogmius
Appearance
Edit
Level-Based Stats
Edit
| Level | Unmodified Earning Rates (12 Hours) | Feeding Costs | Life | Attack |
| --- | --- | --- | --- | --- |
| 1 | | | | |
| 2 | | | | |
| 3 | | | | |
| 4 | | | | |
| 5 | | | | |
| 6 | | | | |
| 7 | | | | |
| 8 | | | | |
| 9 | | | | |
| 10 | | Evolve (00:00:00 @ DNA) | | |
| 11 | | | | |
| 12 | | | | |
| 13 | | | | |
| 14 | | | | |
| 15 | | | | |
| 16 | | | | |
| 17 | | | | |
| 18 | | | | |
| 19 | | | | |
| 20 | | Evolve (00:00:00 @ DNA) | | |
| 21 | | | | |
| 22 | | | | |
| 23 | | | | |
| 24 | | | | |
| 25 | | | | |
| 26 | | | | |
| 27 | | | | |
| 28 | | | | |
| 29 | | | | |
| 30 | | Evolve (00:00:00 @ DNA) | | |
| 31 | | | | |
| 32 | | | | |
| 33 | | | | |
| 34 | | | | |
| 35 | | | | |
| 36 | | | | |
| 37 | | | | |
| 38 | | | | |
| 39 | | | | |
| 40 | | MAX | | |