Bonitasaura can be created in Jurassic World: The Game as a common herbivore.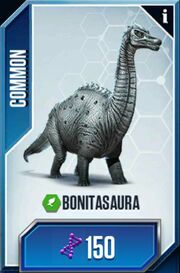 Information
It is unlocked by completing battle stage 26. More individuals can be purchased in the market for 150 DNA or found through card packs.
As of June 29, 2016, a level 40 Bonitasaura can be fused with a level 40 Parasaurolophus to create the hybrid Parasaura.
Cost and Time to Hatch
Availability
Common
Incubation Period
00:30:00
Placement Cost
150 DNA
Selling Reward
75 DNA
Maximum Earning Rate
31.744 Gold/Minute
Additional Information
Bonitasaura
Appearance
Level-Based Stats
Level
Unmodified Earning Rates
(15 Hours)
Feeding Costs
Life
Attack
1
90
45 (5x = 225)
48
12
2
179
89 (5x = 445)
50
13
3
268
133 (5x = 665)
53
14
4
358
177 (5x = 885)
55
14
5
447
221 (5x = 1,105)
58
15
6
536
265 (5x = 1,325)
61
16
7
625
309 (5x = 1,545)
63
16
8
715
353 (5x = 1,765)
66
17
9
804
397 (5x = 1,985)
69
18
10
893
Evolve (00:05:00 @ 40 DNA)
71
18
11
1,965
485 (5x = 2,425)
92
24
12
2,143
529 (5x = 2,645)
96
24
13
2,322
573 (5x = 2,865)
99
25
14
2,500
618 (5x = 12,500)
102
26
15
2,679
663 (5x = 13,395)
106
27
16
2,857
706 (5x = 14,285)
109
28
17
3,036
751 (5x = 15,180)
112
29
18
3,215
794 (5x = 16,075)
116
30
19
3,393
839 (5x = 16,965)
119
30
20
3,572
Evolve (00:30:00 @ 50 DNA)
122
31
21
7,500
1,113 (5x = 5,825)
150
38
22
7,857
1,165 (5x = 5,825)
154
39
23
8,214
1,218 (5x = 6,090)
158
41
24
8,571
1,270 (5x = 6,350)
162
42
25
8,928
1,324 (5x = 6,620)
166
43
26
9,286
1,376 (5x = 6,880)
170
44
27
9,643
1,429 (5x = 7,145)
174
45
28
10,000
1,481 (5x = 7,405)
178
46
29
10,357
1,536 (5x = 7,680)
182
47
30
10,714
Evolve (01:00:00 @ 60 DNA)
186
48
31
22,142
1,764 (5x = 8,820)
222
57
32
22,856
1,822 (5x = 9,110)
226
58
33
23,570
1,879 (5x = 9,395)
231
59
34
24,285
1,935 (5x = 9,675)
236
60
35
24,999
1,993 (5x = 9,965)
240
61
36
25,713
2,049 (5x = 10,245)
245
63
37
26,427
2,106 (5x = 10,530)
249
64
38
27,142
2,162 (5x = 10,810)
254
65
39
27,856
2,220 (5x = 11,100)
259
66
40
28,570
Fuse ()
263
67
Gallery