"Ooh, ah," that's how it always starts. But then later there's running and screaming."

---

 

This page contains spoilers from an upcoming, or newly released, installment of the Jurassic Park franchise. If you don't want spoilers, leave the page!

InGen Helicopter #CR-1017 was an Agusta AW109A helicopter used by InGen Security Division in 2015.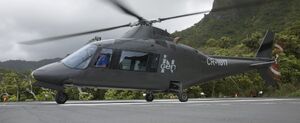 CR-1017 saw service in the Isla Nublar Incident of 2015 twice. First to transport troops to Isla Nublar after Simon Masrani died. During the ride, one soldier shot a Dimorphodon from the helicopter. Later, the helicopter was used to evacuate the InGen contractor, along with Henry Wu and several other InGen geneticists.[1]
The Pteranodon battle pack has a helicopter based on CR-1017.
References
Edit