This page needs serious attention!
---
This article does not currently meet the standards set at
Park Pedia: The Jurassic Park Wiki. Please feel free to edit it, and pose any
questions you might have on the article's talk page.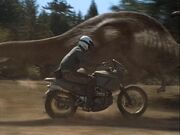 The InGen hunters came to Isla Sorna with a variety of vehicles, including some
Cagiva Canyon 500
motorcycles.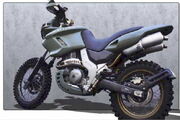 In Jurassic Park-inspired video games
Edit
Appears in a lot of adaptations of the film, such as the arcade and SEGA Genesis versions, not to mention Trespasser.
Main article: Dino-Snare Dirtbike
The motorcycles have been confirmed to be the Italian-made Cagiva Canyon 500s in IMCDB.
Appearances
Edit