This page needs serious attention!
---
This article does not currently meet the standards set at
Park Pedia: The Jurassic Park Wiki. Please feel free to edit it, and pose any
questions you might have on the article's talk page.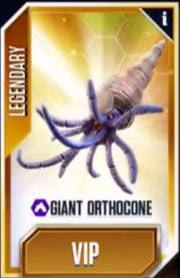 A "Giant Orthocone" appears in Jurassic World: The Game as a VIP Cave creature. Its' likely a Cameroceras due to how in the BBC's Sea Monsters calls a Cameroceras a "Giant Orthocone". There also is more evidence that the "Giant Orthocone" is a Cameroceras due to how the Spanish version of the game calls it a Cameroceras and not a "Giant Orthocone". Cameroceras was in the codes of the game as well.