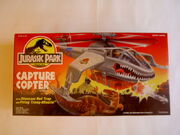 The Capture Copter is the largest vehicle from Jurassic Park Series 1. It bears no resemblance to any helicopters in the movie and is unique to the first toy line. The toy features capture net and a firing tranq-missile.
Ad blocker interference detected!
Wikia is a free-to-use site that makes money from advertising. We have a modified experience for viewers using ad blockers

Wikia is not accessible if you've made further modifications. Remove the custom ad blocker rule(s) and the page will load as expected.