This page needs serious attention!
---
This article does not currently meet the standards set at
Park Pedia: The Jurassic Park Wiki. Please feel free to edit it, and pose any
questions you might have on the article's talk page.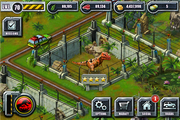 Ceratosaurus is one of the available dinosaurs in the iOS and Android application, Jurassic Park: Builder as a bronze dinosaur. It has the small horns over the eyes like the one in the film and juvenile Ceratosaurus and unlike adult Ceratosaurs. The Jurassic Park III Ceratosaurus color scheme also seems to used for the Level 30 Ceratosaurus.