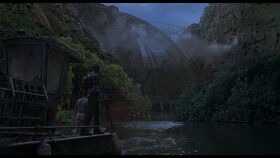 "It's a birdcage."
The following article contains spoilers for an upcoming or recent installment in the Jurassic Park Franchise. Please be careful viewing this article if you do not wish to be spoiled.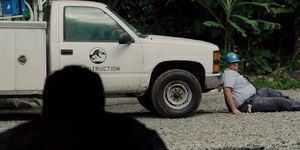 The Chevrolet C-2500 was a pickup truck used as a construction vehicle by Jurassic World. One, Isla Nublar license plate R-022, was parked outside of Paddock 11 during Owen Grady's visit to inspect it. Following the escape of Indominus rex, Nick hid in front of the Chevrolet. This proved to be ineffective, as Indominus sniffed him out and swatted the truck aside before snatching Nick up and eating him.
Ad blocker interference detected!
Wikia is a free-to-use site that makes money from advertising. We have a modified experience for viewers using ad blockers

Wikia is not accessible if you've made further modifications. Remove the custom ad blocker rule(s) and the page will load as expected.