This page needs serious attention!
---
This article does not currently meet the standards set at
Park Pedia: The Jurassic Park Wiki. Please feel free to edit it, and pose any
questions you might have on the article's talk page.

    Christopher Michael "Chris" Pratt is an actor who stars as one of the main characters of Jurassic World. Pratt was born in 1979.
| | |
| --- | --- |
| | Wikipedia has a more detailed and comprehensive article on Chris Pratt |
Chris Pratt and Jurassic Park Edit
Chris Pratt was 14 years old when Jurassic Park came out. Pratt saw the film on its opening night, he lined up at the theatre to see it.[2] When Today Film asked Pratt if he was a fan he answered: "Oh I am a huge fan. Huge fan. One of my very most influential movies as a kid was Jurassic."[3] "For me, Jurassic Park was really kind of my Star Wars," Pratt told QMI Agency Sunday at Legoland California. Pratt has seen every sequel, "I've seen it a whole bunch of times… for me that was my big movie."[2]
"Everybody around the world knows that franchise," said Pratt. "When you say Jurassic Park, no one is like, 'What's Jurassic Park?' More people know Jurassic Park than just about anything."[2]
Jurassic World Edit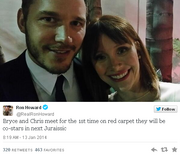 One day, before he was cast, Pratt chatted with Colin Trevorrow about the next Jurassic Park film and got introspective during the talk. "I sat down with him… and we just started getting excited about this. In the back of my mind, I was like 'Dude, this is going to happen. They want you to do this movie.' I remember him telling me, 'Yeah, they're not going to tell you this, but we want you to do it.' I was like, 'Buhhh. Really? Oh God. Really?' "
At the 71st Annual Golden Globe Awards (2014-01-13), film director Ron Howard tweeted that his daughter, Bryce Dallas Howard, and Chris Pratt "will be co-stars in next Juraissic" [sic].
Since Chris Pratt has always been a huge fans of the franchise, it means a lot to him that he is joining the series as a leading man. "And so it's a big deal for me to be any part of that, let alone this part I'm going to be playing. I'm thrilled about it."[2] "Now I am not just a fan of the franchise, I am a peer of its artistic creators... That feels really good."[3]
External links
Edit
References
Edit
↑ IGN - Jurassic World Sequel Coming in 2018 (July 23, 2015) Retrieved from http://www.ign.com/articles/2015/07/23/jurassic-world-sequel-coming-in-2018
↑ 2.0 2.1 2.2 2.3 Tilley, S. (2014, January 26). Chris Pratt confirms 'Jurassic World': 'Jurassic Park was really kind of my Star Wars'. TomorrowSun. Retrieved from http://www.torontosun.com/2014/01/26/chris-pratt-confirms-jurassic-world-jurassic-park-was-really-kind-of-my-star-wars
↑ 3.0 3.1 YouTube (2014, July 28). Chris Pratt talks Jurassic World [Video file]. Retrieved from https://www.youtube.com/watch?v=EXKEbjIovVI