Chronicle Collectibles is a company that specializes in licensed products that are molded, cast, or grown from original puppets, props, studio molds, sculptures, and digital files provided by the licenses.[1] On June 10, 2015, Chronicle Collectibles announced that they that acquired the Jurassic Park license to make products based on the four films so far.[2]
The Lost World: Jurassic Park 1/5th Scale T-Rex BustEdit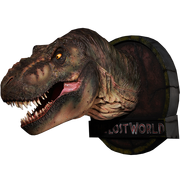 A 1/5th scale bust of the head of the Tyrannosaur Buck in the style of a trophy mount with the word "THE LOST WORLD" just below its neck. First announced on December 18, 2015,[3] the hand painted bust was modeled and cast directly from a Stan Winston Studio casting for The Lost World: Jurassic Park. It is able to be mounted onto walls due to it being a roto-cast, which makes it hollow.[4]
The bust became available for pre-order on December 21, 2015, at 5PM CST. It was limited edition with only 750 made and hand numbered,[5] 350 of which were solid on the Chronicle Collectibles website.[4] By June 18, 2016, the busts that the main website was selling were all sold out.[6] The busts will be released in Q3 2016.[4]
A statue molded from a studio created by Stan Winston Studio used maquette for the Stegosaurus from The Lost World: Jurassic Park standing on an oval resembling a river bed.[7]
The statue was first teased on their Facebook page on February 7, 2016,[8] before it was announced on the Chronicle Collectibles Facebook page on April 13, 2016, that it would become available for pre-order on April 15, 2016, at 5 PM CST.[9] It is set for release in Q4 2016 and each statue will be individually numbered.[7]
Jurassic Park Breakout T-RexEdit
A 1/6 scale model of Rexy roaring just after breaking out of her paddock on Jurassic Park at the start of the Isla Nublar Incident of 1993. The base of the model is inspired by the shape of her paddock on the Control Room's map of Isla Nublar and with the depowered fence posts with torn electric cables.[10]
Notes and references
Edit
External links
Edit