Coloborhynchus is creatable in Jurassic World: The Game as a common pterosaur.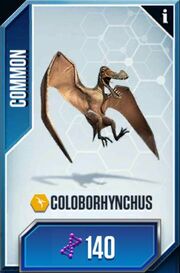 Information
Edit
It is unlocked by beating battle stage 31. More individuals can be purchased in the market for 140 DNA or found through card packs.
As of March 16, 2016, a level 40 Coloborhynchus can be fused with a level 40 Limnoscelis to create the hybrid, Limnorhynchus.
Cost and Time to Hatch
Availability
Common
Incubation Period
00:19:00
Placement Cost
140 DNA
Selling Reward
70 DNA
Maximum Earning Rate
241.667 Gold/Minute
Additional Information
Coloborhynchus
Appearance
Edit
Level-Based Stats
Edit
Level
Unmodified Earning Rates
(15 Minutes)
Feeding Costs
Life
Attack
1
12
43 (5x = 215)
43
16
2
23
84 (5x = 420)
45
17
3
34
127 (5x = 635)
48
18
4
46
168 (5x = 840)
50
19
5
57
211 (5x = 1,055)
53
20
6
68
252 (5x = 1,260)
55
21
7
80
294 (5x = 1,470)
57
22
8
91
336 (5x = 1,680)
60
23
9
102
378 (5x = 1,890)
62
24
10
114
Evolve (00:05:00 @ 40 DNA)
64
25
11
250
462 (5x = 2,310)
84
32
12
272
503 (5x = 2,515)
87
33
13
295
546 (5x = 2,730)
90
34
14
318
588 (5x = 2,940)
93
35
15
340
631 (5x = 3,155)
95
36
16
363
672 (5x = 3,360)
98
38
17
386
714 (5x = 3,570)
101
39
18
408
756 (5x = 3,780)
104
40
19
431
798 (5x = 3,900)
107
41
20
454
Evolve (00:30:00 @ 50 DNA)
110
42
21
952
1,059 (5x = 5,295)
136
52
22
997
1,109 (5x = 5,545)
140
53
23
1,043
1,159 (5x = 5,795)
143
55
24
1,088
1,209 (5x = 6,045)
147
56
25
1,133
1,260 (5x = 6,300)
150
57
26
1,179
1,309 (5x = 6,545)
154
59
27
1,224
1,360 (5x = 6,800)
158
60
28
1,269
1,409 (5x = 7,045)
161
61
29
1,315
1,461 (5x = 7,305)
165
63
30
1,360
Evolve (01:00:00 @ 60 DNA)
168
64
31
2,810
1,678 (5x = 8,390)
201
77
32
2,900
1,734 (5x = 8,670)
205
78
33
2,991
1,788 (5x = 8,940)
209
80
34
3,082
1,841 (5x = 9,205)
213
81
35
3,172
1,897 (5x = 9,485)
217
83
36
3,263
1,950 (5x = 9,750)
221
84
37
3,354
2,004 (5x = 10,020)
226
86
38
3,444
2,057 (5x = 10,285)
230
88
39
3,535
2,113 (5x = 10,565)
234
89
40
3,625
Fuse (04:00 @ 100 DNA)
238
91