This page needs serious attention!
---
This article does not currently meet the standards set at
Park Pedia: The Jurassic Park Wiki. Please feel free to edit it, and pose any
questions you might have on the article's talk page.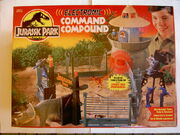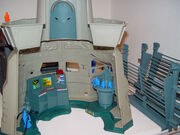 The Command Compound was released with Jurassic Park Series 1 toy line. It features many nice details like a large fence. It also have an electronic talking computer, hatchery with eggs, dino-damage panels, firing trang-missile and a net launcher. Based on a combination of the Visitor Center and Animal Containment Unit from the movie, albeit smaller.
For a complete description: Command Compound at JPToys
Ad blocker interference detected!
Wikia is a free-to-use site that makes money from advertising. We have a modified experience for viewers using ad blockers

Wikia is not accessible if you've made further modifications. Remove the custom ad blocker rule(s) and the page will load as expected.