This page needs serious attention!
---
This article does not currently meet the standards set at
Park Pedia: The Jurassic Park Wiki. Please feel free to edit it, and pose any
questions you might have on the article's talk page.

Corythosaurus creatable in Jurassic World: The Game as a rare herbivore.
Information
Edit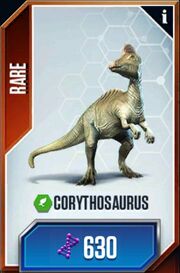 It is unlocked by beating battle stage 32. More individuals can be purchased in the market for 630 DNA or found through card packs.
Cost and Time to Hatch
Availability
Rare
Incubation Period
02:30:00
Placement Cost
630 DNA
Additional Information
Corythosaurus
Appearance
Edit
Level-Based Stats
Edit
Level
Unmodified Earning Rates
(18 Hours)
Feeding Costs
Life
Attack
1
164
137 (5x = 685)
96
24
2
327
270 (5x = 1,350)
101
26
3
490
406 (5x = 2,030)
106
27
4
654
537 (5x = 2,685)
112
29
5
817
673 (5x = 3,365)
117
30
6
980
807 (5x = 4,035)
122
31
7
1,144
943 (5x = 4,715)
128
33
8
1,307
1,074 (5x = 5,370)
133
34
9
1,470
1,210 (5x = 6,050)
138
35
10
1,633
Evolve (00:30:00 @ 50 DNA)
144
37
11
(5x = )
12
(5x = )
13
(5x = )
14
(5x = )
15
(5x = )
16
(5x = )
17
(5x = )
18
(5x = )
19
(5x = )
20
6,532
Evolve (01:00:00 @ 60 DNA)
246
63
21
(5x = )
22
(5x = )
23
(5x = )
24
(5x = )
25
(5x = )
26
(5x = )
27
(5x = )
28
(5x = )
29
(5x = )
30
19,596
Evolve (02:00:00 @ 70 DNA)
375
96
31
(5x = )
32
(5x = )
33
(5x = )
34
(5x = )
35
(5x = )
36
(5x = )
37
(5x = )
38
(5x = )
39
(5x = )
40
52,255
Max
531
136