This page needs serious attention!
---
This article does not currently meet the standards set at
Park Pedia: The Jurassic Park Wiki. Please feel free to edit it, and pose any
questions you might have on the article's talk page.

Corythosaurus is creatable in Jurassic World: The Game as a rare herbivore.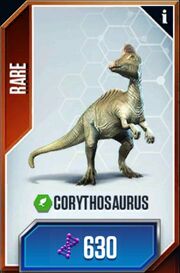 Information
Edit
It is unlocked by completing battle stage 32. More individuals can be purchased in the market for 630 DNA or found through card packs.
Cost and Time to Hatch
Availability
Rare
Incubation Period
02:30:00
Placement Cost
630 DNA
Maximum Earning Rate
48.384 Gold/Minute
Additional Information
Corythosaurus
Appearance
Edit
Level-Based Stats
Edit
Level
Unmodified Earning Rates
(18 Hours)
Feeding Costs
Life
Attack
1
164
137 (5x = 685)
96
24
2
327
270 (5x = 1,350)
101
26
3
490
406 (5x = 2,030)
106
27
4
654
537 (5x = 2,685)
112
29
5
817
673 (5x = 3,365)
117
30
6
980
807 (5x = 4,035)
122
31
7
1,144
943 (5x = 4,715)
128
33
8
1,307
1,074 (5x = 5,370)
133
34
9
1,470
1,210 (5x = 6,050)
138
35
10
1,633
Evolve (00:30:00 @ 50 DNA)
144
37
11
3,593
4,927
186
48
12
3,920
5,368
193
49
13
4,249
5,822
200
51
14
4,573
6,275
206
53
15
4,899
6,729
213
54
16
5,226
7,170
220
56
17
5,553
7,623
226
58
18
5,879
8,064
233
60
19
6,206
8,518
240
61
20
6,532
Evolve (01:00:00 @ 60 DNA)
246
63
21
13,171
11,303
304
78
22
14,371
11,832
312
80
23
15,024
12,374
319
82
24
15,677
12,903
327
84
25
16,330
13,445
335
86
26
16,983
13,974
343
88
27
17,636
14,516
351
90
28
18,290
15,045
359
92
29
18,943
15,599
367
94
30
19,596
Evolve (02:00:00 @ 70 DNA)
375
96
31
(5x = )
32
(5x = )
33
(5x = )
34
(5x = )
35
(5x = )
36
(5x = )
37
(5x = )
38
(5x = )
39
(5x = )
40
52,255
MAX
531
136