This page needs serious attention!
---
This article does not currently meet the standards set at
Park Pedia: The Jurassic Park Wiki. Please feel free to edit it, and pose any
questions you might have on the article's talk page.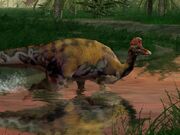 Corythosaurus was featured as a three-star large herbivore in the video game Jurassic Park: Operation Genesis. It is known for making a quick whooping howl. It likes to socialize with Edmontosaurus and Parasaurolophus if placed together. The Corythosaurus seems to be one of the common prey for T. rex.