This page needs serious attention!
---
This article does not currently meet the standards set at
Park Pedia: The Jurassic Park Wiki. Please feel free to edit it, and pose any
questions you might have on the article's talk page.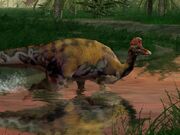 Corythosaurus was featured as a three-star large herbivore in the video game Jurassic Park: Operation Genesis. It is known for making a quick whooping howl. It likes to socialize with Edmontosaurus and Parasaurolophus if placed together. The Corythosaurus seems to be one of the common prey for T. rex.
Ad blocker interference detected!
Wikia is a free-to-use site that makes money from advertising. We have a modified experience for viewers using ad blockers

Wikia is not accessible if you've made further modifications. Remove the custom ad blocker rule(s) and the page will load as expected.