Information
Edit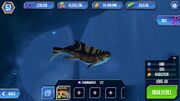 Dakosaurus appears in the game Jurassic World: The Game as a super rare cave creature in the aquatic park.
It is usually unlocked by beating weekly tournaments. More individuals can be purchased in the game's store or through card packs.
In all evolutions, it has a sail down its back, which is inaccurate.
Cost and Time to Hatch
Availability
Super Rare
Incubation Period
08:48:00
Placement Cost
2,000 DNA
Additional Information
Dakosaurus
Level-Based Stats
Edit
| Level | Unmodified Earning Rates (12 Hours) | Feeding Costs | Life | Attack |
| --- | --- | --- | --- | --- |
| 1 | 202 | 288 (5x = 1,440) | 83 | 60 |
| 2 | 404 | 568 (5x = 2,840) | 88 | 64 |
| 3 | 605 | 856 (5x = 4,280) | 92 | 67 |
| 4 | 807 | 1,136 (5x = 5,680) | 97 | 71 |
| 5 | 1,008 | 1,424 (5x = 7,120) | 101 | 74 |
| 6 | 1,210 | 1,704 (5x = 8,520) | 106 | 77 |
| 7 | 1,412 | 1,992 (5x = 9,960) | 111 | 81 |
| 8 | 1,613 | 2,272 (5x = 11,360) | 115 | 84 |
| 9 | 1,815 | 2,560 (5x = 12,800) | 120 | 87 |
| 10 | 2,016 | Evolve (01:00:00 @ 60 DNA) | 124 | 91 |
| 11 | 4,436 | 1,880 (5x = 9,400) | 161 | 118 |
| 12 | 4,839 | 2,052 (5x = 10,260) | 167 | 122 |
| 13 | 5,242 | 2,224 (5x = 11,120) | 173 | 126 |
| 14 | 5,645 | 2,388 (5x = 11,940) | 179 | 130 |
| 15 | 6,048 | 2,560 (5x = 12,800) | 184 | 134 |
| 16 | 6,452 | 2,732 (5x = 13,660) | 190 | 139 |
| 17 | 6,855 | 2,904 (5x = 14,520) | 196 | 143 |
| 18 | 7,258 | 3,072 (5x = 15,360) | 202 | 147 |
| 19 | 7,661 | 3,244 (5x = 16,220) | 207 | 151 |
| 20 | 8,064 | Evolve () | 213 | 155 |
| 21 | | (5x = ) | | |
| 22 | | (5x = ) | | |
| 23 | | (5x = ) | | |
| 24 | | (5x = ) | | |
| 25 | | (5x = ) | | |
| 26 | | (5x = ) | | |
| 27 | | (5x = ) | | |
| 28 | | (5x = ) | | |
| 29 | | (5x = ) | | |
| 30 | | Evolve () | | |
| 31 | | (5x = ) | | |
| 32 | | (5x = ) | | |
| 33 | | (5x = ) | | |
| 34 | | (5x = ) | | |
| 35 | | (5x = ) | | |
| 36 | | (5x = ) | | |
| 37 | | (5x = ) | | |
| 38 | | (5x = ) | | |
| 39 | | (5x = ) | | |
| 40 | | Max | | |