Dinosaurs cut from Jurassic Park: Operation Genesis
Talk

7
Share
Ad blocker interference detected!
Wikia is a free-to-use site that makes money from advertising. We have a modified experience for viewers using ad blockers

Wikia is not accessible if you've made further modifications. Remove the custom ad blocker rule(s) and the page will load as expected.
In early plans Jurassic Park: Operation Genesis featured more dinosaurs than the final version. The names of these dinosaurs can still be seen in in-game files on the CD-ROM.
Dinosaurs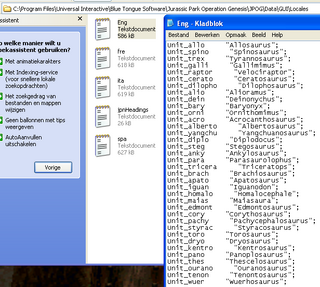 These additional dino names can be seen in the file "Eng":[1]
Iguanodon
The only dinosaur of the before mentioned list that went into development was Iguanodon. The CD-ROM contains two files containing the parameters of the dinosaur.[2]
References
↑ Jurassic Park: Operation Genesis CD-ROM. Path: Universal Interactive\Blue Tongue Software\Jurassic Park Operation Genesis\JPOG\Data\GUI\Locales\Eng
↑ Universal Interactive\Blue Tongue Software\Jurassic Park Operation Genesis\JPOG\Data\Units\Iguan
Universal Interactive\Blue Tongue Software\Jurassic Park Operation Genesis\JPOG\Data\Units\Iguan.nwt