Diplocaulus is creatable in Jurassic World: The Game as a common amphibian.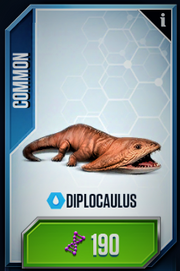 Information
Edit
It is unlocked by completing battle stage 15. Additional individuals can be purchased in the market for 190 DNA or found through card packs.
As of January 11th, 2016, a level 40 Diplocaulus can be fused with a level 40 Irritator to create the hybrid Diplotator.
Cost and Time to Hatch
Availability
Common
Incubation Period
00:27:00
Placement Cost
190 DNA
Selling Reward
95 DNA
Maximum Earning Rate
39.761 Gold/Minute
Additional Information
Diplocaulus
Appearance
Edit
Unlocked Trivia
Edit
Reward:
"
Reward:
"
Reward:
"Like the Dimetrodon, the Diplocaulus is not actually a dinosaur, but a type of primitive amphibian!"
Reward:
"Outside of Jurassic World's living zoo, there are only two Diplocaulus specimens on display; both are from the United States!"
Level-Based Stats
Edit
| Level | Unmodified Earning Rates (12 Hours) | Feeding Costs | Life | Attack |
| --- | --- | --- | --- | --- |
| 1 | 90 | 52 (5x = 260) | 51 | 13 |
| 2 | 179 | 101 (5x = 505) | 54 | 14 |
| 3 | 269 | 152 (5x = 760) | 57 | 15 |
| 4 | 358 | 202 (5x = 1,010) | 60 | 15 |
| 5 | 448 | 253 (5x = 1,265) | 63 | 16 |
| 6 | 537 | 303 (5x = 1,515) | 66 | 17 |
| 7 | 627 | 354 (5x = 1,770) | 68 | 17 |
| 8 | 716 | 404 (5x = 2,020) | 71 | 18 |
| 9 | 806 | 455 (5x = 2,275) | 74 | 19 |
| 10 | 895 | Evolve (00:05:00 @ 40 DNA) | 77 | 20 |
| 11 | 1,969 | 556 (5x = 2,780) | 100 | 26 |
| 12 | 2,148 | 605 (5x = 3,025) | 103 | 26 |
| 13 | 2,326 | 657 (5x = 3,285) | 107 | 27 |
| 14 | 2,505 | 708 (5x = 3,540) | 110 | 28 |
| 15 | 2,684 | 759 (5x = 3,795) | 114 | 29 |
| 16 | 2,863 | 808 (5x = 4,040) | 118 | 30 |
| 17 | 3,042 | 860 (5x = 4,300) | 121 | 31 |
| 18 | 3,221 | 909 (5x = 4,545) | 125 | 32 |
| 19 | 3,400 | 960 (5x = 4,800) | 128 | 33 |
| 20 | 3,579 | Evolve (00:30:00 @ 50 DNA) | 132 | 34 |
| 21 | 7,515 | 1,274 (5x = 6,370) | 163 | 42 |
| 22 | 7,873 | 1,334 (5x = 6,670) | 167 | 43 |
| 23 | 8,231 | 1,395 (5x = 6,975) | 171 | 44 |
| 24 | 8,589 | 1,455 (5x = 7,275) | 175 | 45 |
| 25 | 8,946 | 1,516 (5x = 7,580) | 180 | 46 |
| 26 | 9,304 | 1,575 (5x = 7,875) | 184 | 47 |
| 27 | 9,662 | 1,636 (5x = 8,180) | 188 | 48 |
| 28 | 10,020 | 1,696 (5x = 8,480) | 192 | 49 |
| 29 | 10,378 | 1,758 (5x = 8,790) | 197 | 50 |
| 30 | 10,736 | Evolve (01:00:00 @ 60 DNA) | 201 | 51 |
| 31 | 22,187 | 2,020 (5x = 10,100) | 240 | 61 |
| 32 | 22,902 | 2,086 (5x = 10,430) | 244 | 63 |
| 33 | 23,618 | 2,152 (5x = 10,760) | 249 | 64 |
| 34 | 24,334 | 2,216 (5x = 11,080) | 254 | 65 |
| 35 | 25,049 | 2,282 (5x = 11,410) | 259 | 66 |
| 36 | 25,765 | 2,346 (5x = 11,730) | 264 | 68 |
| 37 | 26,481 | 2,412 (5x = 12,060) | 269 | 69 |
| 38 | 27,196 | 2,476 (5x = 12,380) | 274 | 70 |
| 39 | 27,912 | 2,542 (5x = 12,710) | 279 | 71 |
| 40 | 28,628 | Fuse (04:00:00 @ 200 DNA) | 284 | 73 |