Diplodocus
is creatable in
Jurassic World: The Game
as a Rare herbivore.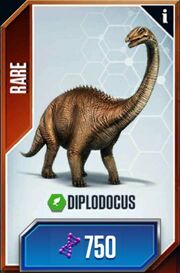 Information
Edit
Diplodocus is unlocked by completing Battle Stage 5. Additional individuals can be purchased in the market for 750 DNA or found through card packs.
As of June 10, 2015, a Level 40 Diplodocus can be fused with a Level 40 Ankylosaurus to make the hybrid Ankylodocus.
Cost and Time to Hatch
Availability
Rare
Incubation Period
03:33:00
Placement Cost
750 DNA
Selling Rerward
375 DNA
Maximum Earning Rate
156 Coins/Minute
Additional Information
Diplodocus
Appearance
Edit
Unlocked Trivia
Edit
Reward: 810 Food.
"The Diplodocus is one of the largest known Dinosaurs. From the tip of its tail to its nose, it is 175 feet long!"
Reward: __ Food
"Much of the Diplodocus' lenght is attributed to its neck and tail. Its tail, in particular, has 80 vertebrae, where the neck only has 15."
Reward: 30 Dino Bucks, __ Food
"Did you know, compared to other large sauropods, the Diplodocus is actually quite trim? It weighs between 20-25 tons!"
Reward: 60 Dino Bucks, 21,330 Food, and 60 DNA.
"Over eleven museums across the world have a Diplodocus on display!"
Level-Based Stats
Edit
| Level | Unmodified Earning Rates (4 hrs) | Feeding Costs | Life | Attack |
| --- | --- | --- | --- | --- |
| 1 | 117 | 162 (5x = 810) | 95 | 24 |
| 2 | 234 | 321 (5x = 1,605) | 100 | 26 |
| 3 | 351 | 483 (5x = 2,415) | 106 | 27 |
| 4 | 468 | 639 (5x = 3,195) | 111 | 28 |
| 5 | 585 | 801 (5x = 4,005) | 116 | 30 |
| 6 | 702 | 960 (5x = 4,800) | 121 | 31 |
| 7 | 819 | 1,122 (5x = 5,610) | 127 | 32 |
| 8 | 936 | 1,278 (5x = 6,390) | 132 | 34 |
| 9 | 1,053 | 1,440 (5x = 7,200) | 137 | 35 |
| 10 | 1,170 | Evolve (00:30:00 @ 50 DNA) | 143 | 36 |
| 11 | 2,574 | 1,173 (5x = 5,865) | 185 | 47 |
| 12 | 2,808 | 1,278 (5x = 6,390) | 191 | 49 |
| 13 | 3,042 | 1,386 (5x = 6,930) | 198 | 51 |
| 14 | 3,276 | 1,494 (5x = 7,470) | 205 | 52 |
| 15 | 3,510 | 1,602 (5x = 8,010) | 211 | 54 |
| 16 | 3,978 | 1,707 (5x = 8,535) | 224 | 57 |
| 17 | 3,744 | 1,815 (5x = 9,075) | 218 | 56 |
| 18 | 4,212 | 1,920 (5x = 9,600) | 231 | 59 |
| 19 | 4,446 | 2,028 (5x = 10,140) | 238 | 61 |
| 20 | 4,680 | Evolve (01:00:00 @ 60 DNA) | 244 | 62 |
| 21 | 9,828 | 2,691 (5x = 13,455) | 301 | 77 |
| 22 | 10,296 | 2,691 (5x = 13,455) | 309 | 79 |
| 23 | 10,764 | 2,946 (5x = 14,730) | 317 | 81 |
| 24 | 11,232 | 3,072 (5x = 15,360) | 325 | 83 |
| 25 | 11,700 | 3,201 (5x = 16,005) | 333 | 85 |
| 26 | 12,168 | 3,327 (5x = 16,635) | 341 | 87 |
| 27 | 12,636 | 3,456 (5x = 17,280) | 348 | 89 |
| 28 | 13,104 | 3,582 (5x = 17,910) | 356 | 91 |
| 29 | 13,572 | 3,714 (5x = 18,570) | 364 | 93 |
| 30 | 14,040 | Evolve (02:00:00 @ 70 DNA) | 372 | 95 |
| 31 | 2,901 | 4,266 (5x = 21,330) | 444 | 113 |
| 32 | 2,995 | 4,407 (5x = 22,035) | 453 | 116 |
| 33 | 30,888 | 4,545 (5x = 2,725) | 462 | 118 |
| 34 | 31,824 | 4,680 (5x = 23,400) | 471 | 120 |
| 35 | 32,760 | 4,821 (5x = 24,105) | 480 | 123 |
| 36 | 33,696 | 4,956 (5x = 24,780) | 490 | 125 |
| 37 | 34,632 | 5,094 (5x = 25,470) | 499 | 128 |
| 38 | 35,568 | 5,229 (5x = 26,145) | 508 | 130 |
| 39 | 36,504 | 5,370 (5x = 26,850) | 517 | 132 |
| 40 | 37,440 | Fuse (04:00:00 @ 350 DNA) | 527 | 135 |