This page needs serious attention!
---
This article does not currently meet the standards set at
Park Pedia: The Jurassic Park Wiki. Please feel free to edit it, and pose any
questions you might have on the article's talk page.
Diplotator
 was made creatable in
Jurassic World: The Game
on December 11, 2015 as a rare hybrid amphibian.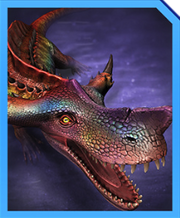 Information
Edit
It is unlocked in the market by fusing a level 40 Diplocaulus and a level 40 Irritator. Additional individuals can be purchased in the market for 4,000 DNA or found through special card packs.
Cost and Time to Hatch
Availability
Rare Hybrid
Incubation Period
04:55:00
Placement Cost
4,000 DNA
Selling Reward
2,000 DNA
Maximum Earning Rate
297.361 Gold/Minute
Appearance
Edit
Unlocked Trivia
Edit
Reward: 2,870 Food
"Did you know that Diplotator means 'double irritation?'"
Reward: 20,780 Food
"Unlike its stocky relative, the Diplocaulus, the Diplotator weighs a staggering 2 tons! That's more than an adult giraffe!"
Reward: 100 Bucks and 47,490 Food
"Like modern whales and dolphins, the Diplotator swims up and down. Its legs are too short to propel its body through deep water!"
Reward: 100 Bucks, 100,505 Food and 320 DNA
"Unlike the Diplocaulus and Irritator, the Diplotator has spikes on its head and a spiky tail!"
Level-Based Stats
Edit
| Level | Unmodified Earning Rates (6 hrs) | Feeding Costs | Life | Attack |
| --- | --- | --- | --- | --- |
| 1 | 335 | 2,868 | 305 | 105 |
| 2 | 670 | 5,682 | 322 | 111 |
| 3 | 1,004 | 8,550 | 339 | 117 |
| 4 | 1,339 | 11,311 | 356 | 123 |
| 5 | 1,673 | 14,178 | 373 | 129 |
| 6 | 2,008 | 16,992 | 390 | 135 |
| 7 | 2,342 | 19,860 | 407 | 141 |
| 8 | 2,677 | 22,621 | 424 | 146 |
| 9 | 3,011 | 25,488 | 441 | 152 |
| 10 | 3,346 | Evolve (02:00 @ 100 DNA) | 458 | 158 |
| 11 | 7,360 | 20,780 | 593 | 205 |
| 12 | 8,029 | 22,656 | 614 | 212 |
| 13 | 8,698 | 24,568 | 636 | 220 |
| 14 | 9,367 | 26,409 | 657 | 227 |
| 15 | 10,036 | 28,320 | 678 | 234 |
| 16 | 10,705 | 30,197 | 699 | 242 |
| 17 | 11,375 | 32,108 | 720 | 249 |
| 18 | 12,044 | 33,949 | 742 | 256 |
| 19 | 12,713 | 35,896 | 763 | 263 |
| 20 | 13,382 | Evolve (04:00 @ 120 DNA) | 784 | 271 |
| 25 | 33,453 | 11,307 | 1,068 | 369 |
| 30 | 40,144 | Evolve (08:00 @ 140 DNA) | 1,195 | 413 |
| 31 | | | | |
| 32 | | | | |
| 33 | | | | |
| 34 | | | | |
| 35 | | | | |
| 36 | | | | |
| 37 | | | | |
| 38 | | | | |
| 39 | | | | |
| 40 | 107,050 | MAX | 1,691 | 584 |