This page needs serious attention!
---
This article does not currently meet the standards set at
Park Pedia: The Jurassic Park Wiki. Please feel free to edit it, and pose any
questions you might have on the article's talk page.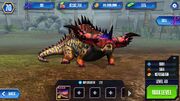 Diplotator is a hybrid that can created in Jurassic World: The Game.
Information
Edit
Since December 11th, 2015, Diplotator can be created by fusing a level 40 of Diplocaulus and a level 40 of Irritator. Diplotator is a rare hybrid and costs 4,000 DNA.
Cost and Time to Hatch
Rank
Rare
Incubation Period
04:55:00
Placement Cost
4,000 DNA
Level-Based Stats
Edit
| Level | Unmodified Earning Rates (6 hrs) | Feeding Costs | Life | Attack |
| --- | --- | --- | --- | --- |
| 1 | 335 | 574 (5x = 2870) | 305 | 105 |
| 5 | 1,673 | 2,836 (5x = 14180) | 373 | 129 |
| 10 | 3,346 | Evolve (02:00 @ 100 DNA) | 458 | 158 |
| 15 | 10,036 | 5,664 (5x = ) | 678 | 234 |
| 20 | 13,382 | Evolve (04:00 @ 120 DNA) | 784 | 271 |
| 25 | 33,453 | 11,307 (5x = ) | 1,068 | 369 |
| 30 | 40,144 | Evolve (08:00 @ 140 DNA) | 1,195 | 413 |
| 35 | | (5x = ) | | |
| 40 | 107,050 | Max | 1,691 | 584 |