DreamWorks Interactive
, currently known as
Electronic Arts Los Angeles
/
EA Los Angeles
, is the video game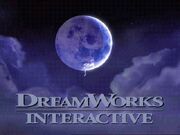 branch of DreamWorks before it was bought by Electronic Arts in 2000, and ultimately renamed into EA Los Angeles in 2002, along with Westwood, developers of the Command & Conquer franchise.
Jurassic Park video games developed/published
Edit
They developed most of The Lost World: Jurassic Park-based video games.
Although not involved in its development, they were listed in The Lost World: Jurassic Park (arcade game)'s special thanks in the credits.