Dromiceiomimus



Name meaning

"Emu mimic"

Diet

Omnivore

Height

2 meters (4.5 feet)

Length

3.5 meters (11 feet)

Weight

100 kg

Location

Canada

Game appearances

Template Source
Dromiceiomimus  ("emu mimic') was a swift bipedal ornithomimid dinosaur from the late Cretaceous period, about 80 million to 65 million years ago. It was probably omnivorous, as were most ornithomimids. It was a relative of Gallimimus. Many scientists now believe that Dromiceiomimus is a synonym of the more well-known Ornithomimus, as it lived in the same time and place and was very similar.
| | |
| --- | --- |
| | Wikipedia has a more detailed and comprehensive article on Dromiceiomimus |
Jurassic Park
Edit
Dromiceiomimus has never appeared or mentioned in any Jurassic Park films or books, however it has appeared in Jurassic Park III: Park Builder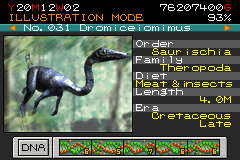 Ad blocker interference detected!
Wikia is a free-to-use site that makes money from advertising. We have a modified experience for viewers using ad blockers

Wikia is not accessible if you've made further modifications. Remove the custom ad blocker rule(s) and the page will load as expected.