This page needs serious attention!
---
This article does not currently meet the standards set at
Park Pedia: The Jurassic Park Wiki. Please feel free to edit it, and pose any
questions you might have on the article's talk page.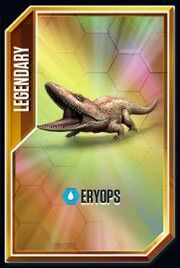 Eryops is an adoptable amphibian in Jurassic World: The Game. Currently, it can only be got from either the Trade Harbor or by buying the Super Rare Plus pack, but neither can unlock the creature. This might change as it may get its own tournament, since it has the holographic icon.
Eryops' picture is much higher on the card when compared to other cards.