This page needs serious attention!
---
This article does not currently meet the standards set at
Park Pedia: The Jurassic Park Wiki. Please feel free to edit it, and pose any
questions you might have on the article's talk page.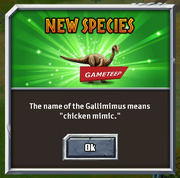 Gallimimus is one of the available dinosaurs on the IOS application, Jurassic Park: Builder. Much like Jurassic Park: Operation Genesis, it is inaccurately depicted as a herbivore, when it, in both real life and Jurassic Park, is an omnivore. This is also possibly due to their limitations that resemble a herbivore and sharing the Dryosaurus model and animation.