This page needs serious attention!
---
This article does not currently meet the standards set at
Park Pedia: The Jurassic Park Wiki. Please feel free to edit it, and pose any
questions you might have on the article's talk page.
Information
Edit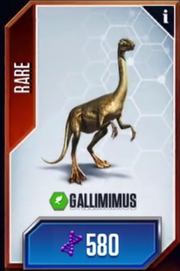 Gallimimus is one of the available dinosaurs on the application, Jurassic World: The Game and is a rare creature. Much like Jurassic Park: Operation Genesis and Jurassic Park: Builder, it is inaccurately depicted as a herbivore, when it, in both real life and Jurassic Park, is an omnivore. This is also possibly due to their limitations that resemble a herbivore. 
It is usually unlocked by beating battle stage 36. More individuals can be purchased in the game's store or through card packs. Oddly, its model appears to have teeth, something its real life counterpart did not possess when it infact would have a more beak like mouth like its close relative Orinthomimus.
Cost and Time to Hatch
Availability
Rare
Incubation Period
02:05:00
Placement Cost
580 DNA
Additional Information
Gallimimus
Level-Based Stats
Edit
| Level | Unmodified Earning Rates (5 Hours) | Feeding Costs | Life | Attack |
| --- | --- | --- | --- | --- |
| 1 | 78 | (5x = 125) | 72 | 27 |
| 2 | 155 | (5x = 247) | 76 | 29 |
| 3 | 232 | (5x = 371) | 79 | 30 |
| 4 | 310 | (5x = 490) | 83 | 32 |
| 5 | 387 | (5x = 615) | 87 | 33 |
| 6 | 464 | (5x = 736) | 91 | 35 |
| 7 | 541 | (5x = 861) | 95 | 36 |
| 8 | 619 | (5x = 980) | 99 | 38 |
| 9 | 696 | (5x = 1104) | 103 | 39 |
| 10 | 773 | Evolve (00:30:00 @ 50 DNA) | 107 | 41 |
| 11 | | (5x = ) | | |
| 12 | | (5x = ) | | |
| 13 | | (5x = ) | | |
| 14 | | (5x = ) | | |
| 15 | | (5x = ) | | |
| 16 | | (5x = ) | | |
| 17 | | (5x = ) | | |
| 18 | | (5x = ) | | |
| 19 | | (5x = ) | | |
| 20 | | Evolve (01:00:00 @ 60 DNA) | | |
| 21 | | (5x = ) | | |
| 22 | | (5x = ) | | |
| 23 | | (5x = ) | | |
| 24 | | (5x = ) | | |
| 25 | | (5x = ) | | |
| 26 | | (5x = ) | | |
| 27 | | (5x = ) | | |
| 28 | | (5x = ) | | |
| 29 | | (5x = ) | | |
| 30 | | Evolve (02:00:00 @ 70 DNA) | | |
| 31 | | (5x = ) | | |
| 32 | | (5x = ) | | |
| 33 | | (5x = ) | | |
| 34 | | (5x = ) | | |
| 35 | | (5x = ) | | |
| 36 | | (5x = ) | | |
| 37 | | (5x = ) | | |
| 38 | | (5x = ) | | |
| 39 | | (5x = ) | | |
| 40 | 24,730 | Max | 396 | 151 |