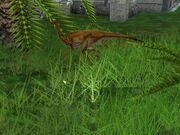 In the video game Jurassic Park: Operation Genesis, Gallimimus is a three-star herbivore from the Flaming Cliffs formation along with the Velociraptor and the Homalocephale, much like the real world. It is inaccurately depicted as a herbivore, when it, in both real life and Jurassic Park, is an omnivore. This is possibly due to their limitations that resemble a herbivore. Gallimimus can coexist with Dryosaurus and other herbivores and appears to be one of the hardest herbivores to catch by most carnivore dinosaurs. It appeared in the game's demo as well. The lifestyle of the Gallimimus in this game much more disorganized than in films where the Gallimimus are thought to evade live in flocks. Though much of this is true in the game the Gallis tend to separate from the herd and end up getting lost. When in a herd the Gallis frequently run on a natural basis, but when isolated from a herd they always stop running and normally walk.
Ad blocker interference detected!
Wikia is a free-to-use site that makes money from advertising. We have a modified experience for viewers using ad blockers

Wikia is not accessible if you've made further modifications. Remove the custom ad blocker rule(s) and the page will load as expected.