This page needs serious attention!
---
This article does not currently meet the standards set at
Park Pedia: The Jurassic Park Wiki. Please feel free to edit it, and pose any
questions you might have on the article's talk page.

Giganocephalus is creatable in Jurassic World: The Game as a super rare hybrid herbivore.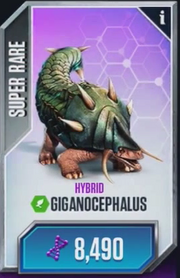 Information
Edit
Giganocephalus was made available to the player's park on September 30th, 2015. It is unlocked in the market by fusing a Level 40 Giganotosaurus and a Level 40 Euoplocephalus. Additional individuals can be purchased in the market for 8,490 DNA.
Cost and Time to Hatch
Availability
Super Rare
Incubation Period
14:07:00
Placement Cost
8,490 DNA
Selling Reward
4,245 DNA
Maximum Earning Rate
680.067 Gold/Minute
Appearance
Edit
Unlocked Trivia
Edit
Reward: 5,465 Food
"Did you know that Giganocephalus is a misnomer? Its name means 'giant head', when in fact it actually has a small head!"
Reward: 39,520 Food
"The Giganocephalus has smooth, armored plates and four large spikes protecting its neck and shoulders."
Reward: 100 Dino Bucks and 181,125 Food
"Like the Euoplocephalus, the Giganocephalus has fused bone plates, protecting its back and neck from attack."
Reward: 100 Dino Bucks, 679 DNA and 768,465 Food
"The Giganocephalus is nearly twice the size of its Euoplocephalus progenitor; weighing 4.2 tons and measuring up to 30 feet in length!"
Level-Based Stats
Edit
| Level | Umnodified Earning Rates (3 Hours) | Feeding Costs | Life | Attack |
| --- | --- | --- | --- | --- |
| 1 | 383 | 5,465 | 551 | 115 |
| 2 | 766 | 10,829 | 581 | 121 |
| 3 | 1,148 | 16,294 | 612 | 128 |
| 4 | 1,531 | 21,556 | 643 | 134 |
| 5 | 1,913 | 27,021 | 673 | 140 |
| 6 | 2,296 | 32,384 | 704 | 147 |
| 7 | 2,678 | 37,849 | 735 | 153 |
| 8 | 3,061 | 43,112 | 765 | 159 |
| 9 | 3,443 | 48,576 | 796 | 166 |
| 10 | 3,826 | Evolve (04:00:00 @ 120 DNA) | 826 | 172 |
| 11 | 8,416 | 39,519 | 1,071 | 223 |
| 12 | 9,181 | 43,086 | 1,109 | 231 |
| 13 | 9,946 | 46,730 | 1,148 | 239 |
| 14 | 10,712 | 50,221 | 1,186 | 247 |
| 15 | 11,477 | 53,839 | 1,224 | 255 |
| 16 | 12,242 | 57,406 | 1,262 | 263 |
| 17 | 13,007 | 61,049 | 1,301 | 271 |
| 18 | 13,772 | 64,541 | 1,339 | 279 |
| 19 | 14,537 | 68,260 | 1,377 | 287 |
| 20 | 15,302 | Evolve (00:00:00 @ DNA) | 1,415 | 295 |
| 21 | | | | |
| 22 | | | | |
| 23 | | | | |
| 24 | | | | |
| 25 | | | | |
| 26 | | | | |
| 27 | | | | |
| 28 | | | | |
| 29 | | | | |
| 30 | | Evolve (00:00:00 @ DNA) | | |
| 31 | | | | |
| 32 | | | | |
| 33 | | | | |
| 34 | | | | |
| 35 | | | | |
| 36 | | | | |
| 37 | | | | |
| 38 | | | | |
| 39 | | | | |
| 40 | 122,412 | MAX | 3,053 | 636 |