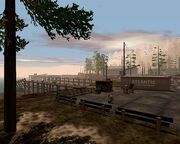 The Main Harbor was, as Hammond described it, the "life blood of Site B." Anne encounters the harbor during the Lab level.
Key Buildings
Edit
Main Offices
Edit
Warehouses A & B
Edit
Stacked full with equipment and supplies, the harbor has two warehouses. Both have useful firearms and inside warehouse B, located on top of crates, is a tranquilizer gun; One of the only weapons in the game that can take down a Tyrannosaurus.
Ad blocker interference detected!
Wikia is a free-to-use site that makes money from advertising. We have a modified experience for viewers using ad blockers

Wikia is not accessible if you've made further modifications. Remove the custom ad blocker rule(s) and the page will load as expected.