Hatzegopteryx can be created in Jurassic World: The Game as a common pterosaur.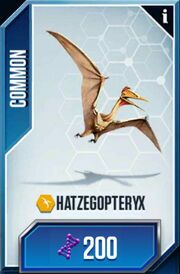 Information
Edit
It is unlocked by completing battle stage 13. More individuals can be purchased in the market or found through card packs.

As of March 16, 2016, a level 40 Hatzegopteryx can be fused with a level 40 Pelecanimimus to create the hybrid Pelecanipteryx.


Cost and Time to Hatch
Availability
Common
Incubation Period
00:29:00
Placement Cost
200 DNA
Selling Reward
100 DNA
Maximum Earning Rate
188.167 Gold/Minute
Additional Information
Hatzegopteryx
Appearance
Edit
Level-Based Stats
Edit
| Level | Unmodified Earning Rates (1 hour) | Feeding Costs | Life | Attack |
| --- | --- | --- | --- | --- |
| 1 | 36 | 53 (5x = 265) | 46 | 17 |
| 2 | 71 | 105 (5x = 525) | 48 | 18 |
| 3 | 106 | 158 (5x = 790) | 51 | 19 |
| 4 | 142 | 209 (5x = 1,045) | 53 | 20 |
| 5 | 177 | 262 (5x = 1,310) | 56 | 21 |
| 6 | 212 | 314 (5x = 1,570) | 58 | 22 |
| 7 | 247 | 367 (5x = 1,835) | 61 | 23 |
| 8 | 283 | 418 (5x = 2,090) | 64 | 24 |
| 9 | 318 | 471 (5x = 2,355) | 66 | 25 |
| 10 | 353 | Evolve (00:05:00 @ 40 DNA) | 69 | 26 |
| 11 | 777 | 575 (5x = 2,875) | 89 | 34 |
| 12 | 847 | 627 (5x = 3,135) | 92 | 35 |
| 13 | 918 | 680 (5x = 3,400) | 95 | 36 |
| 14 | 988 | 733 (5x = 3,665) | 98 | 38 |
| 15 | 1,059 | 785 (5x = 3,925) | 102 | 39 |
| 16 | 1,129 | 837 (5x = 4,185) | 105 | 40 |
| 17 | 1,200 | 890 (5x = 4,450) | 108 | 41 |
| 18 | 1,271 | 941 (5x = 4,705) | 111 | 42 |
| 19 | 1,341 | 994 (5x = 4,720) | 114 | 44 |
| 20 | 1,412 | Evolve (00:30:00 @ 50 DNA) | 118 | 45 |
| 21 | 2,964 | 6,593 | 145 | 55 |
| 22 | 3,105 | 6,902 | 149 | 57 |
| 23 | 3,246 | 7,218 | 152 | 58 |
| 24 | 3,387 | 7,527 | 156 | 60 |
| 25 | 3,528 | 7,843 | 160 | 61 |
| 26 | 3,670 | 8,152 | 164 | 63 |
| 27 | 3,851 | 8,468 | 168 | 64 |
| 28 | 3,952 | 8,776 | 172 | 66 |
| 29 | 4,093 | 9,100 | 175 | 67 |
| 30 | 4,234 | Evolve (01:00:00 @ 60 DNA) | 179 | 68 |
| 31 | 8,750 | 10,452 | 312 | 82 |
| 32 | 9,032 | 10,798 | 218 | 83 |
| 33 | 9,314 | 11,136 | 222 | 85 |
| 34 | 9,597 | 11,466 | 227 | 87 |
| 35 | 9,879 | 11,812 | 231 | 88 |
| 36 | 10,161 | 12,143 | 236 | 90 |
| 37 | 10,443 | 12,481 | 240 | 92 |
| 38 | 10,726 | 12,812 | 245 | 93 |
| 39 | 11,008 | 13,157 | 249 | 95 |
| 40 | 11,290 | Fuse (04:00:00 @ 100 DNA) | 253 | 97 |