This page needs serious attention!
---
This article does not currently meet the standards set at
Park Pedia: The Jurassic Park Wiki. Please feel free to edit it, and pose any
questions you might have on the article's talk page.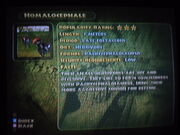 Homalocephale was featured as a three star small herbivore in the videogame Jussic Park: Operation Genesis. They are coated with dark blue or black white underparts are white or gray. The flat head dome is red. They spend most of their time in the open areas with tall vegetation. They live in large groups and are very rarely found alone. For some reason, they are defenceless and cannot attack enemies with their heads, unlike their cousins Pachycephalosaurus. They are also friends with Pachycephalosaurus, but often extend their trust to other herbivores they can rely on such as sauropods like Brachiosaurus.