Ichtyostega is creatable in Jurassic World: The Game as a legendary amphibian.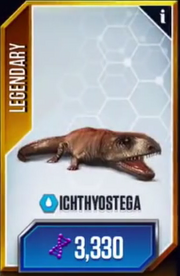 Information
Edit
Ichtyostega is unlocked by completing battle stage 38. Additional individuals can be purchased in the market with 3,330 DNA or found in card packs.
A level 40 Icthyostega can be fused with a level 40 Rajasaurus to create the hybrid Rajastega.
Cost and Time to Hatch
Availability
Legendary
Incubation Period
2 days 04:00:00
Placement Cost
3,330 DNA
Selling Reward
1,665 DNA
Maximum Earning Rate
238.697 Gold/Minute
Additional Information
Ichthyostega
Appearance
Edit
Unlocked Trivia
Edit
Reward: 2,400 Food
"Did you know that its name is Greek for 'fish roof'? The Ichthyostega has lungs as well as gills!"
Reward: 20,350 Food
"The Ichthyostega has a mixture of amphibious and fish-like features, including webbed feet and a fin on its tail!"
Reward: 100 Dino Bucks and 93,240 Food
"
Reward: 100 Dino Bucks, 394,075 Food and 266 DNA
"
Level-Based Stats
Edit
Level
Unmodified Earning Rates (5 hrs)
Feeding Costs
Life
Attack
1
224
480

(5x = 2,400

)

269
103
2
448
946

(5x = 4,730

)

284
109
3
672
1,42

6 (5x = 7,130

)

299
114
4
896
1,89

2 (5x = 9,460

)

314
120
5
1,119
2,371

(5x = 11,855

)

329
126
6
1,343
2,838

(5x = 14,190

)

344
131
7
1,567
3,317

(5x = 16,585

)

359
137
8
1,791
3,783

(5x = 18,915

)

374
143
9
2,014
4,263

(5x = 21,315

)

389
149
10
2,238
Evolve (02:00:00 @ 70 DNA)
404
154
11
4,924
4,070

(5x = 20,350

)

524
200
12
5,371
4,443

(5x = 22,215

)

543
207
13
5,819
4,816

(5x = 24,080

)

561
214
14
6,266
5,175

(5x = 25,875

)

580
221
15
6,714
5,542

(5x = 27,710

)

599
229
16
7,161
5,915

(5x = 29,575

)

617
236
17
7,609
6,288

(5x = 31,440

)

636
243
18
8,056
6,654

(5x = 33,270

)

655
250
19
8,504
7,027 (5x = 35,135)
673
257
20
8,952
Evolve (04:00:00 @ 80 DNA)
692
264
21
22
23
24
25
26
27
28
29
30
26,854
Evolve (08:00:00 @ 90 DNA)
1,055
403
31
32
33
34
35
36
37
38
39
40
71,609
Fuse (00:00:00 @ DNA)
1493
570