Ad blocker interference detected!
Wikia is a free-to-use site that makes money from advertising. We have a modified experience for viewers using ad blockers

Wikia is not accessible if you've made further modifications. Remove the custom ad blocker rule(s) and the page will load as expected.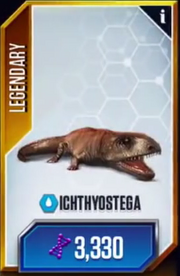 Ichtyostega is one of the dinosaurs that can be created in Jurassic World: The Game. 
Information
Edit
Ichtyostega is unlocked by beating it in battle stage 38. It can either be free through Legendary card packs or purchased with 3,330 DNA.
Cost and Time to Hatch
Availability
Legendary
Incubation Period
2 days 4 hours
Placement Cost
3,330 DNA
Additional Information
Ichthyostega
Level-Based Stats
Edit
Level
Unmodified Earning Rates (5 hrs)
Feeding Costs
Life
Attack
1
224
480

(5x = 2,400

)

269
103
2
448
946

(5x = 4,730

)

284
109
3
672
1,42

6 (5x = 7,130

)

299
114
4
896
1,89

2 (5x = 9,460

)

314
120
5
1,119
2,371

(5x = 11,855

)

329
126
6
1,343
2,838

(5x = 14,190

)

344
131
7
1,567
3,317

(5x = 16,585

)

359
137
8
1,791
3,783

(5x = 18,915

)

374
143
9
2,014
4,263

(5x = 21,315

)

389
149
10
2,238
Evolve (02:00:00 @ 70 DNA)
404
154
11
4,924
4,070

(5x = 20,350

)

524
200
12
5,371
4,443

(5x = 22,215

)

543
207
13
5,819
4,816

(5x = 24,080

)

561
214
14
6,266
5,175

(5x = 25,875

)

580
221
15
6,714
5,542

(5x = 27,710

)

599
229
16
7,161
5,915

(5x = 29,575

)

617
236
17
7,609
6,288

(5x = 31,440

)

636
243
18
8,056
6,654

(5x = 33,270

)

655
250
19
8,504
7,027 (5x = 35,135)
673
257
20
8,952
Evolve (04:00:00 @ 80 DNA)
692
264
25
30
Evolve (08:00:00 @ 90 DNA)
35
40
71609
Max/Fuse
1493
570