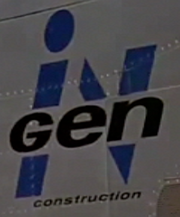 InGen Construction
was a side branch of
International Genetic Technologies, Inc.
of Palo Alto, CA. This department was responsible for developing the facilities on
Isla Nublar
and
Isla Sorna
. It is mentioned in the
first novel
and briefly in
Jurassic Park: Trespasser
, a PC video game that combines both the film and novel canons. It also makes a brief appearance in the
first film
.