The InGen Docks and Waterfront Complex was a small pier located outside of San Diego, California. There were also several warehouses. It was destroyed by the out-of-control S.S. Venture crashing into the docks. The T. rex subsequently escaped and rampaged the docks, thus starting the San Diego Incident.
LEGO Jurassic World
Edit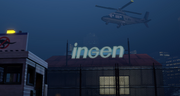 In the video game LEGO Jurassic World the scenario San Diego is set at the InGen docks. When the ship runs into the pier, a hole appears in its side. Malcolm and Sarah enter the ship through the hole. They have several fights with the InGen personnel.
Harbor Personnel
Security Guards
Movie videos
Edit
Lego images
Edit
Ad blocker interference detected!
Wikia is a free-to-use site that makes money from advertising. We have a modified experience for viewers using ad blockers

Wikia is not accessible if you've made further modifications. Remove the custom ad blocker rule(s) and the page will load as expected.