Samsung Innovation Center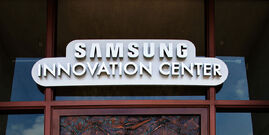 Built
Sometime in 2005
Location
Isla Nublar
Purpose
Main Hub of Jurassic World

Island Monitor/Control Center
Visitor Reception and Lodging
Main Dining Facility
Guided Tours
Skeleton Digging

Status
Abandoned
"Welcome to the Innovation Center, where technology meets prehistory."
—Park Announcer(src)
The Samsung Innovation Center is the main building in Main Street of Jurassic World. It features minor theme-park attractions such as Guided tours, Skeleton digging and Hammond Creation Lab. The structure is 20,000 ft. in total area, and consists of over 100 interactive exhibits.
It is inspired by the original center in Jurassic Park.
Hammond Creation Lab
Diner
Mr. DNA show
Fossil Dig
Interestingly, the "Holoscape" (see the fourth image in the gallery above) lists creatures that have not been seen so far in the Jurassic World park. This includes Spinosaurus, Plesiosaurus, Dilophosaurus, Brachiosaurus, Deinonychus, Nipponosaurus, Lesothosaurus, Allosaurus, Hadrosaurus, Elaphrosaurus and Hoplitosaurus Kritosaurus (possible). It is currently unknown if the aforementioned dinosaurs actually live in Jurassic World.
Ad blocker interference detected!
Wikia is a free-to-use site that makes money from advertising. We have a modified experience for viewers using ad blockers

Wikia is not accessible if you've made further modifications. Remove the custom ad blocker rule(s) and the page will load as expected.