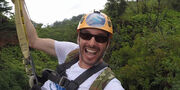 There is an adventure park on Isla Nublar that contains elements such as treetop rope bridges, bungee jumping and zip-lines.
The adventure park is available in the Adrenaline Package and the Romance Package for Jurassic World.
Rope bridges
Edit
Zip-lines
Edit
Bungee jumping
Edit
"What does bungee jumping have to do with dinosaurs? Nothing, except that it's totally awesome! Your Heart will be racing like you just ran through the T. rex paddock.""[1]
References
Edit
↑ Adrenaline Package description. Retrieved from http://www.jurassicworld.com/tickets/adrenaline/