"We could head back down to the lagoon."
"And do what? Sit out in the open? Next to a heavily used water source and hope that your captain decides to come back for you?"
"No, he won't do that he knows better. "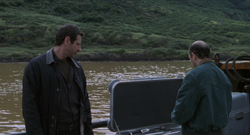 The
Isla Sorna
Lagoon is an unseen area on Isla Sorna. It is mentioned by
Ian Malcolm
when his group and
Ludlow's group
try to decide how to call for a rescue. It is unknown where on the island the lagoon is located, but it is where the
Mar Del Plata
boat dropped off Dr. Ian Malcolm's team.
Appearances
Edit