"Ooh, ah," that's how it always starts. But then later there's running and screaming."

---

 

This page contains spoilers from an upcoming, or newly released, installment of the Jurassic Park franchise. If you don't want spoilers, leave the page!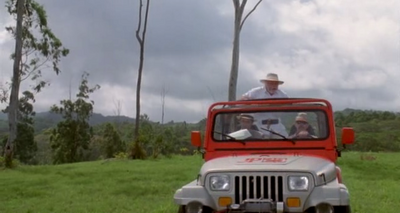 Jeep 29 was a Jeep Wrangler Staff Vehicle that appeared in Jurassic Park and later Jurassic World. Like Jeep 10, it was equipped with a manual transmission.
Jeep 29 is seen in the virtual reality program.
Jeep 29 appears in this toy line as an RC Vehicle in its abandoned state, covered in rust and mud splatters. The model is actually a different generation of Wrangler, although it is painted correctly except for the interior and roll bar.
References
Edit