Jurassic Park: Chaos Effect/Thrasher T. rex
Talk

0
Share
Ad blocker interference detected!
Wikia is a free-to-use site that makes money from advertising. We have a modified experience for viewers using ad blockers

Wikia is not accessible if you've made further modifications. Remove the custom ad blocker rule(s) and the page will load as expected.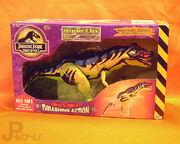 This article is about the Trasher T. rex from Chaos Effect. For the figure from The Lost World series, see The Lost World Series 1/Thrasher T-Rex
.
The Thrasher T. rex comes from the Kenner toy line 'Chaos Effect'. It is a genetically advanced Tyrannosaurus rex, similar to Omega T. rex. It is a repaint of TLW Thrasher T. rex. The TLW Thrasher had a more realistic paint job and capture gear.