Jurassic Park: Chaos Effect/Thrasher T. rex
Talk

0
Share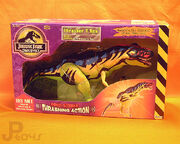 This article is about the Trasher T. rex from Chaos Effect. For the figure from The Lost World series, see The Lost World Series 1/Thrasher T-Rex
.
The Thrasher T. rex comes from the Kenner toy line 'Chaos Effect'. It is a genetically advanced Tyrannosaurus rex, similar to Omega T. rex. It is a repaint of TLW Thrasher T. rex. The TLW Thrasher had a more realistic paint job and capture gear.
Ad blocker interference detected!
Wikia is a free-to-use site that makes money from advertising. We have a modified experience for viewers using ad blockers

Wikia is not accessible if you've made further modifications. Remove the custom ad blocker rule(s) and the page will load as expected.